Throughout history and until the present period of unceasing progress, buildings and structures have been the bedrock of mankind's visual depiction of prosperity. Cement factories and various production plants serve as the backbone of these humongous monuments.
In India where the human population is more than 140  crore, accommodation for this huge population has raised the need for cement production in the country and the country is the second largest cement producer in the world.
There are approximately  210 cement factories in the country till 2020, with 350 mini cement plants to cater the country-wide cement needs. These plants produce a whopping 294.4 million tonnes of cement in the financial year 2021.
India's cement output climbed 7.8% year-on-year in February 2021. In the future years, India's cement output is predicted to rise by 10% to 12%, with the utilization of roughly 65%. By 2025, India's cement manufacturing capacity will be 550 MT.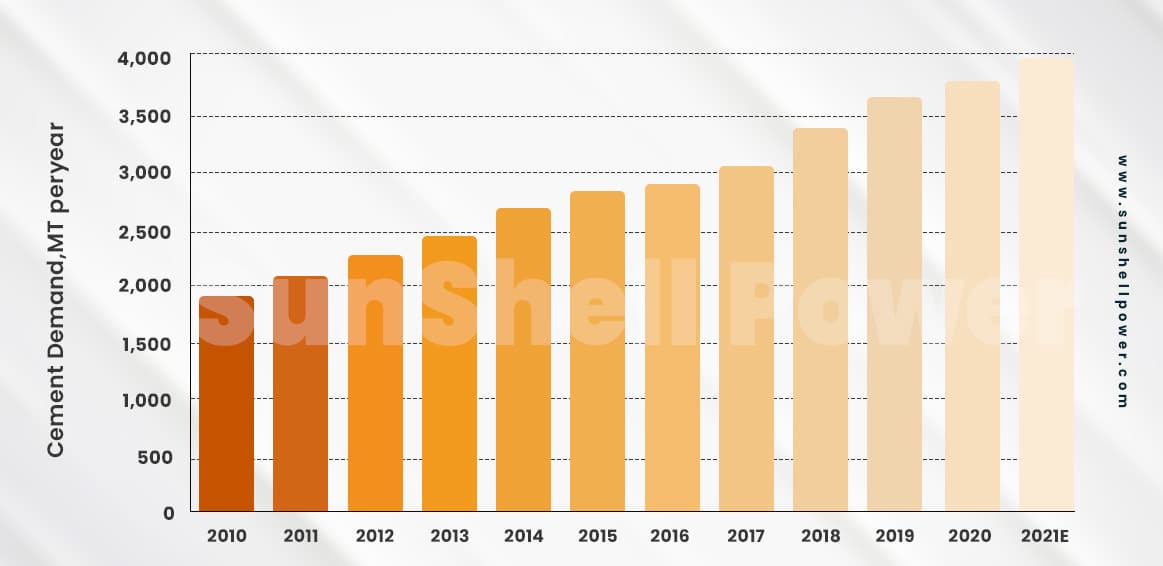 Government investment on infrastructure projects and affordable housing initiatives like the Pradhan Mantri Awas Yojna (PMAY) have been the key drivers of growth for the cement sector in recent years, with increased budgetary allocations.
However, the most significant issue and demand in this sector is stable electricity supply, as well as considerable pollution from industry.
Cement manufacturing plants emit 5-6% of all CO2 produced by human activity, accounting for up to 4% of global warming.
A cement plant which is operational during the major hours of the working day, requires a huge amount of electrical energy which needs to be reliable. Cement production industry consumes approximately 12-15% of total industrial energy use.
So, to cater the problems and dive deep into the matter, we must look into the entire process of cement manufacturing and cement categories.
Components & Working Process of Cement Factory
The four stages of cement manufacturing are
Crushing and grinding of raw materials ,
Blending of materials in correct proportions,
Burning the prepared mixture into kiln,
Grinding the burned product with 5% of gypsum.
If categorized by the nature of the process, the production line can be divided into Wet & Dry processes.
The main raw components in cement production are Limestone,clay or shale & marl.
Tricalcium Silicate (3CaO SiO2), Dicalcium Silicate (2CaO SiO2), Tricalcium Aluminate (3CaO Al2O3), and Tetracalcium Aluminoferrite (4CaO Al2O3Fe2O3) are the four primary components of Portland cement. In the production process small amounts of Magnesia is also present.
Cement clinker is made by heating the blended and ground raw materials to some kind of partial fusion. This burning takes place at a temperature of 1450℃ in kilns.Normally, these are inclined revolving cylinders lined with heat-resistant bricks.
Clinker is granulated spherical stones that emerge from the kiln after a few hours. These are rounded nodules between 1 mm and 25 mm across.
The clinker is then finely processed using a ball mill with a modest quantity of gypsum/anhydrite (usually 5%) to produce Portland cement. During this process the clinker is ground to a fine powder.
Blended cements are produced by integrinding cement clinker with materials like fly ash, granulated blastfurnace slag,limestone dust, natural(eg. Volcanic ash) or artificial (eg. metakaolin) pozzolans, in addition to gypsum/anhydrite.
Clinker quality is determined by the composition of the raw materials, which must be continuously managed to assure the cement's quality. Excess free lime, for example, has negative consequences such as volume expansion, prolonged setting time, and decreased strength.
Electrical Load & Consumption of Cement Factory
The cement production process has always been a high power consumption industry. Even though gradually over the last century the power consumption of per unit production has seen a downward turn, still the power consumption is too high.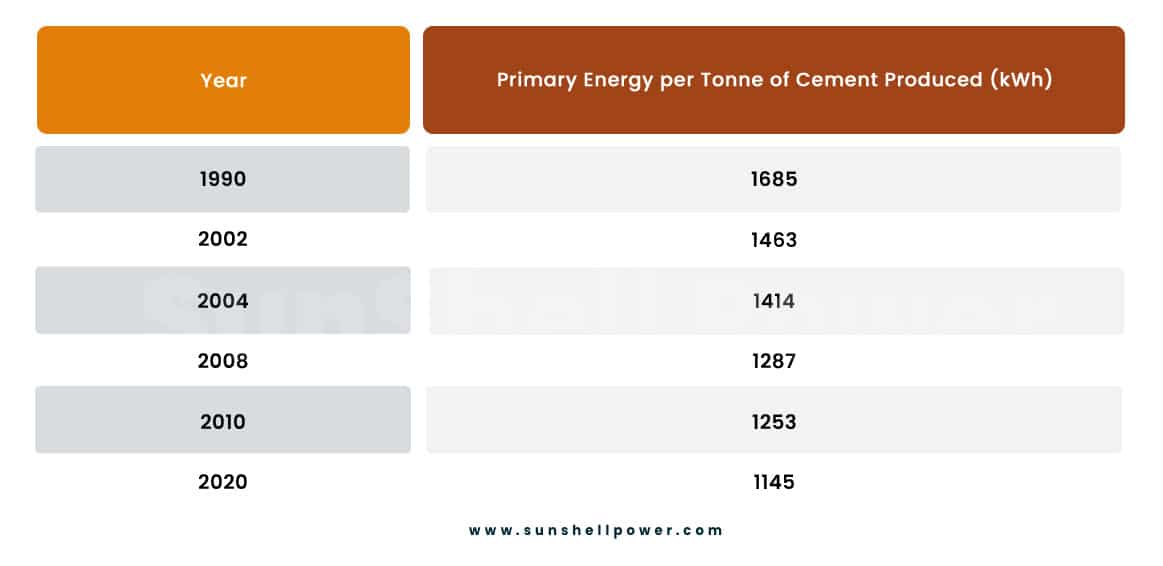 The electrical load of a cement plant fully depends on the production capacity, volume and size of the boilers, energy efficiency measures taken etc. In cement factories, it is customary to take the load factor as 80%.  Approximately , a cement plant uses about 150 kWh of electrical energy per metric ton of cement produced.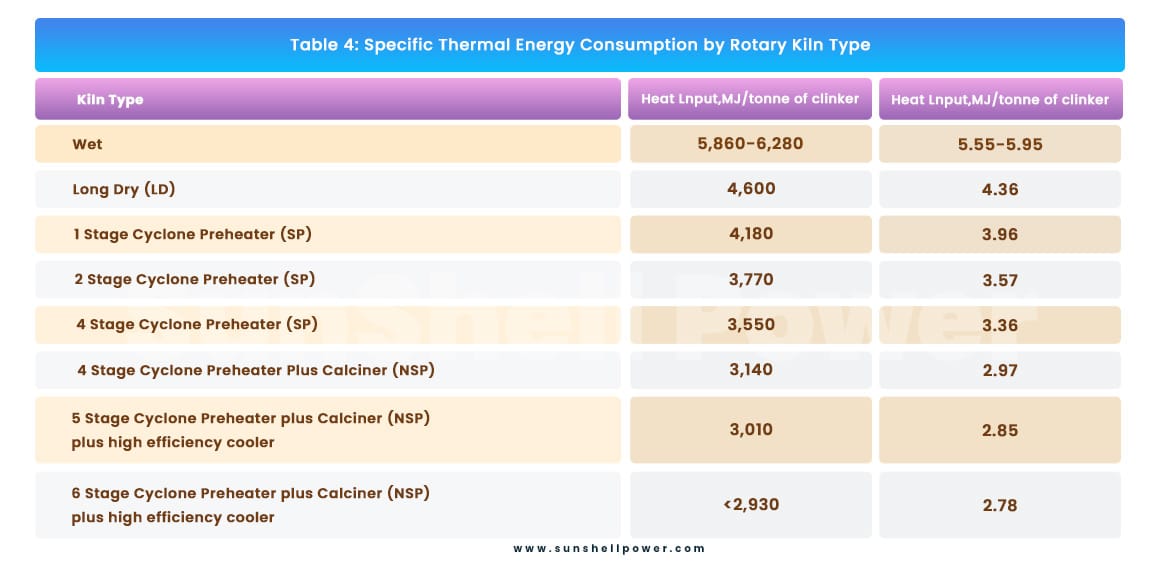 Carbon Emission of Cement Factory
The higher electricity consumption of the industry has led to a huge carbon emission from the industry. Approximately, 2.4% of global CO2 emissions happen from the sector.
To produce 1 ton of cement approximately 0.73-0.99 tons of CO2 is emitted. In the year of 2020, there was a set target to reduce CO2 emissions by 30% from the 1990 baseline equivalent to a value of 72.2 kg  CO2/tonne of concrete produced. The target wasn't fully achieved as cement demand increased in the same year, resulting in more carbon emission during the hectic production line.
Power Backup
Majority of the cement plants use coal, natural gas as the primary power source, no backup is needed there as enough storage of these fossil fuels acts as the backup.
Rest of the plants use DG motors as their main backup source.
Problems being faced by Cement Factories
Even if the industry seems to be growing parallel to the modern civilization, the sector is going to face some serious financial and energy related problems:
Unreliability Leading Disaster: As majority of the machines used in cement factories are boilers and work in high temperatures, sudden power loss can cause a lot of problems as the surge energy required to bring them to the running stage is huge.
Huge Energy Loss: In cement factories approximately 25-30% of the energy is lost during the initial boiling and cooling section.
Huge Carbon, Massive Pollution: As the cement sector is one of the largest carbon emitters in the world, the sector has been setting a target to reduce the problem every year ,but has been failing to do so, as increasing demand has been overwhelming this mission .
Higher Tariff Charges: The big industrial consumers like steel plants ,cement factories draw a lot of power. As the tariff charges are rising day by day, the energy cost also rises day by day.
So, What's The Way Out ?
As technology evolves, human civilization moves towards renewable power more and more. Moreover, solar plants are the most reliable source of renewable power. We at SunShell Power provide solar rooftop solutions for all of the rice mill's issues. Solar modules have a 25-year lifespan with no maintenance, making them extremely dependable and efficient.
For the cement plants we offer four types of solar solutions:
Grid-connected Solar Rooftop Plant,
Solar Submersible Pump,
Solar Street Light,
Waste Heat Management in factory
Grid-connected Solar Rooftop Plant – Solarizing Cement Factories
Solar rooftop power plants that are grid-connected and need low maintenance, as well as a net-metering facility and a credit system based on power banking. If power outages are uncommon and buildings have a large electrical load, this is an ideal power plant.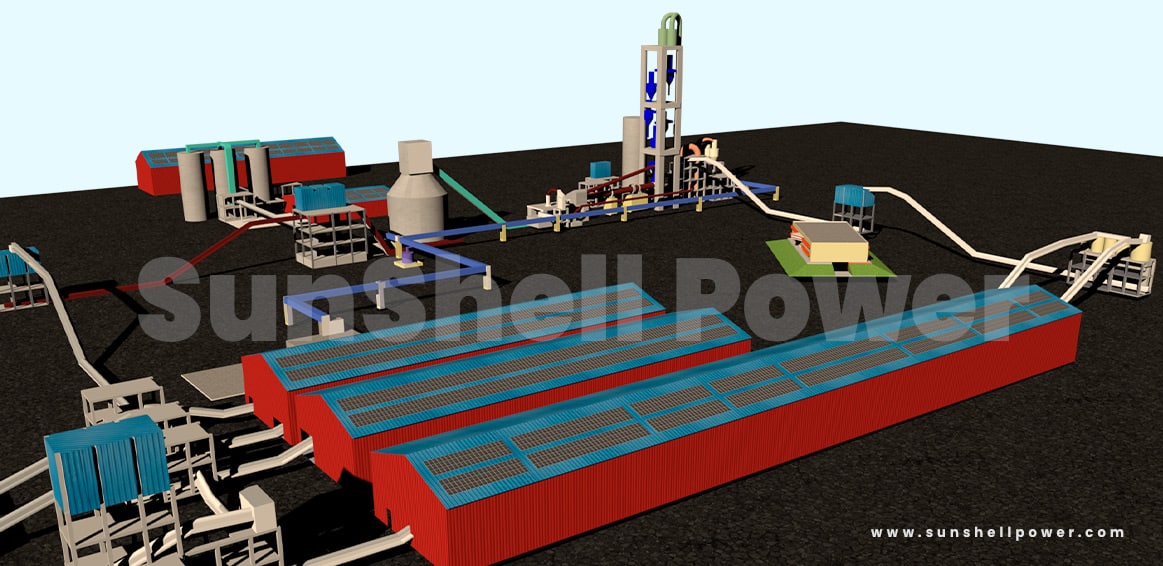 Why Choose On-Grid?
Even though every solar plant is vital to SunShell Power, we strongly advise the cement factory authorities to install on-grid solar rooftop plants. We have identified numerous elements that clearly make Grid-connected plants a suitable choice based on our prior experiences:
These systems are best suitable when power consumption is high as these cement plants.
On-grid systems can be installed with or without net-metering,
On-grid solar systems are very cost-effective and easy to install and maintain which can be beneficial in the busy working day of a cement plant,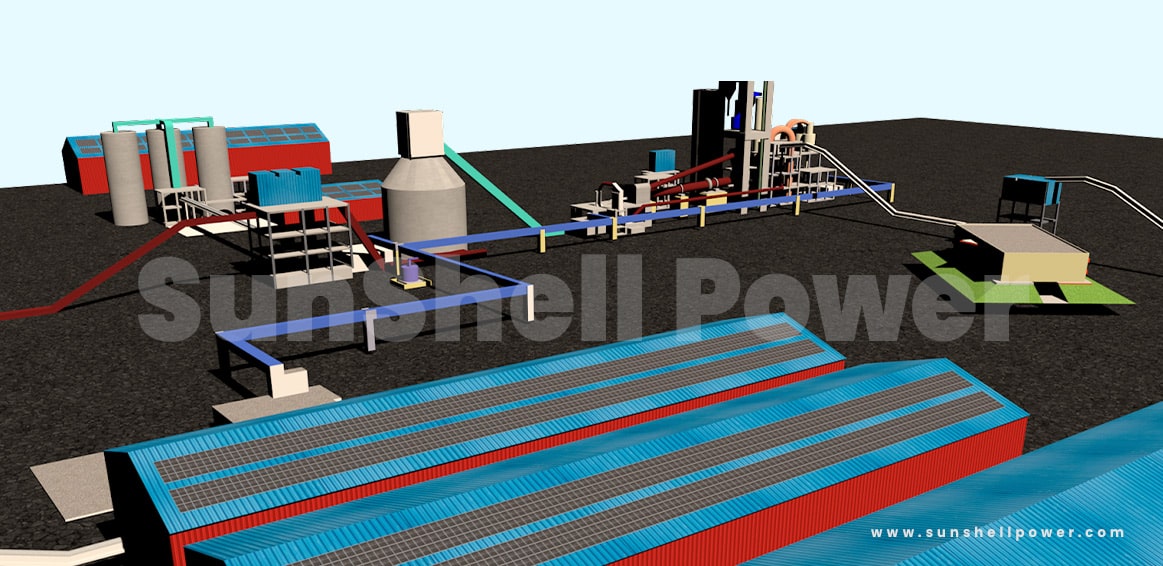 Average ROI from Solar Plant for Cement Factories
The average payback period of a grid-connected solar power plant in a cement factory is around 5-4.5 years, although it can change based on the electrical load of the plant.

Solar Submersible Pump: In cement manufacturing plants water is an essential component, as multiple boilers and during the smashing process of clinkers water is required. Water is also used in the Waste Heat Management System, to ensure energy efficiency. Solar submersible pumps are the best option to deliver water in a constant flow from underground for both toilet and cooling purposes.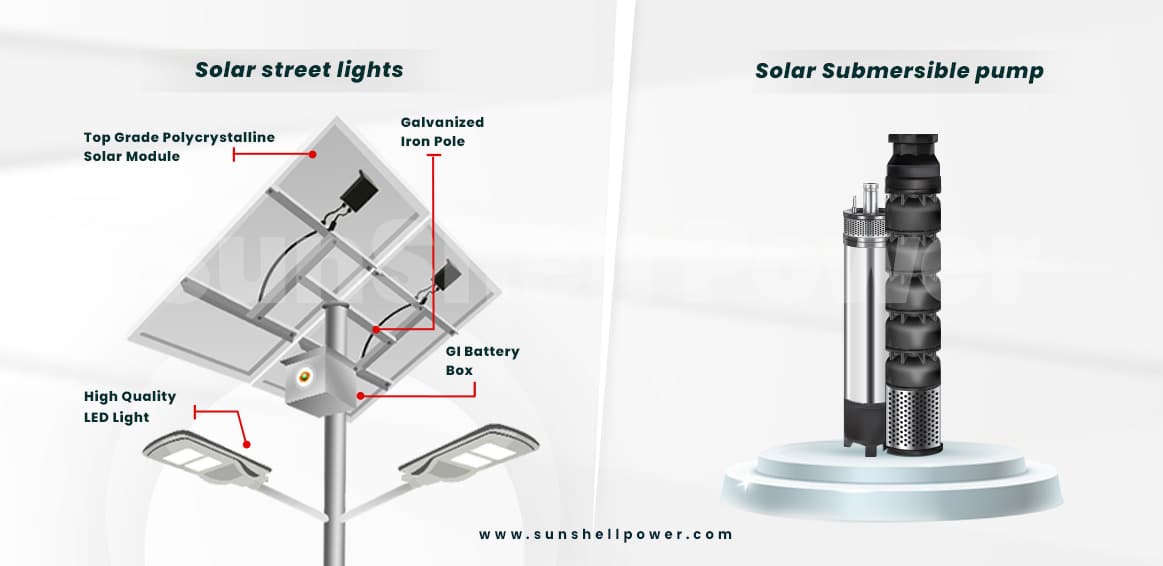 Solar Street Lights: As the compound area of a cement plant is huge and regular operations of transport vehicles are a common scenario here, proper illumination is an important subject. Majority of the cement factories have storage facilities where costly cement bags are supposed to be stored,where these solar lights can be used as safety equipment during the night time.
Energy Efficiency
Not only green energy production but preserving and using energy in an efficient way must also be our approach to reduce the energy requirement of a cement plant. WHR system is usually used in these facilities to use the excess lost energy in the facility.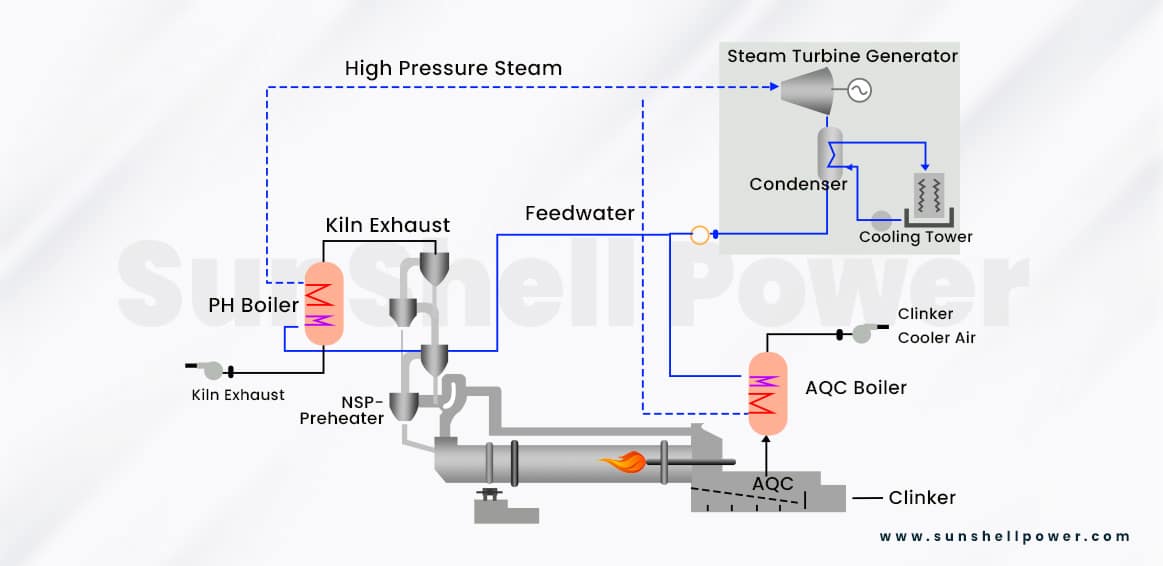 Waste Heat Recovery
In a cement plant nearly 35% of the energy is lost from the pre-heater and cooler waste gas.
Installing a Waste Heat Recovery Power Plant can tap into this energy.A boiler recovers exhaust gas heat that is dumped into the atmosphere at 250-350℃ and uses it to create energy in a steam turbine. Power generation is feasible without the need of extra fuel, resulting in energy savings in the production. This is used in large cement plants and steel mills with high energy usage.
The waste heat recovery power plant for cement plants consists of two water recovery boilers – a PH boiler and an AQC boiler- both of which are installed in the waste gas line.
The PH boiler recovers waste heat from the preheater used for preheating raw materials(boiler inlet gas temperature: 320℃).
The AQC boiler waste heat from the air quenching cooler that quenches the baked clinker ( Boiler inlet gas temperature: 360℃).
A new gas take off point is installed at the high gas temperature side on the AQC for high efficiency.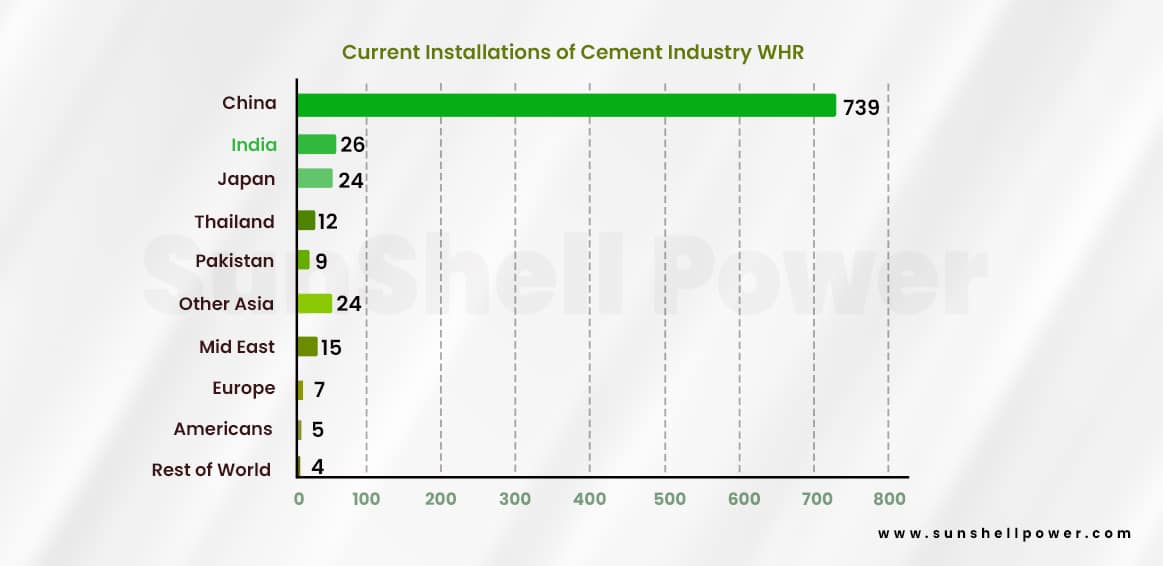 Benefits of WHR
Improved Efficiency:The recovery of waste heat has a direct impact on the process' efficiency. The reduction in utility usage, cost, and process cost reflects this.
Pollution Reduction:A number of toxic combustible wastes such as carbon monoxide gas, sour gas, carbon black off gasses, oil sludge and other plastic chemicals etc. , releasing to the atmosphere if/when burnt in the incinerators serves dual purpose, recovers heat and reduces the environmental pollution levels.
Reduction In Equipment Size: Waste heat recovery lowers fuel usage, lowering the amount of flue gas generated. As a consequence, the sizes of all flue gas handling equipment, such as fans, stacks, ducts, and burners, are reduced.
Reduction In Operational Cost : There will be less fuel usage if waste heat energy is recycled and reused. Reduce industry's operational costs. Companies may save a lot of money and lessen their environmental effect by upgrading to the most energy efficient technologies available. In other words, the industry will benefit more.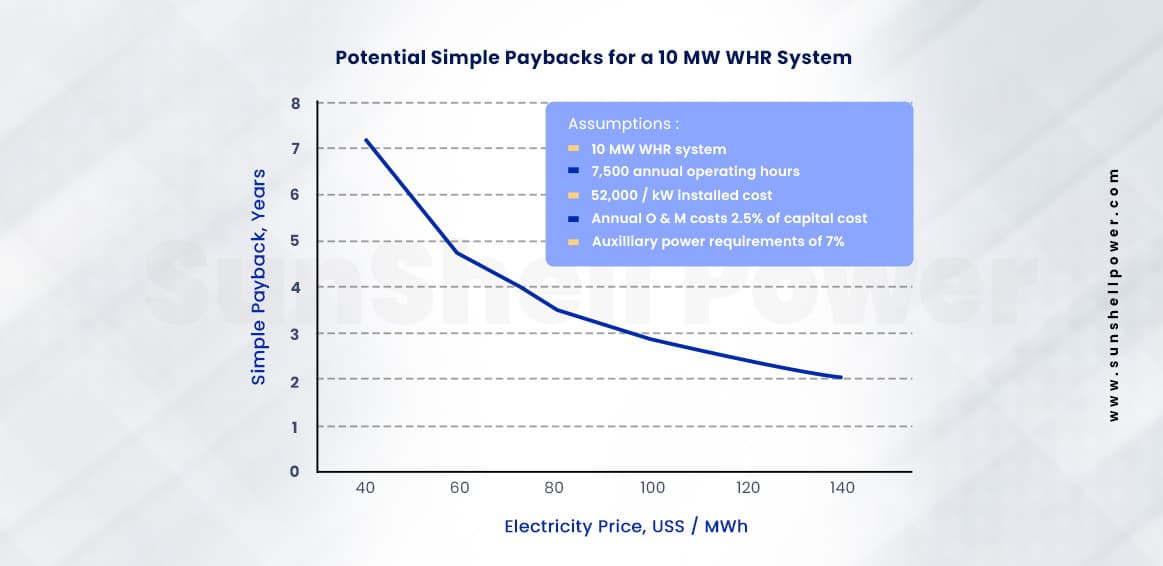 Now as we have discussed in depth about the WHRS and its benefits, we must look into the main components to build a Waste Heat Recovery System
Main Construction Contents of WHRS
General Floor chart of power plant,
SP,AQC boiler,
Water supply system of boiler,
Stream turbine and generator system,
Circle cooling water system of power plant,
Electric system used by power plant,
Automation Control system,
Stream water and water switch system in the outdoor,
Pipe network, Lighting , fire-fighting,security and other accessory system,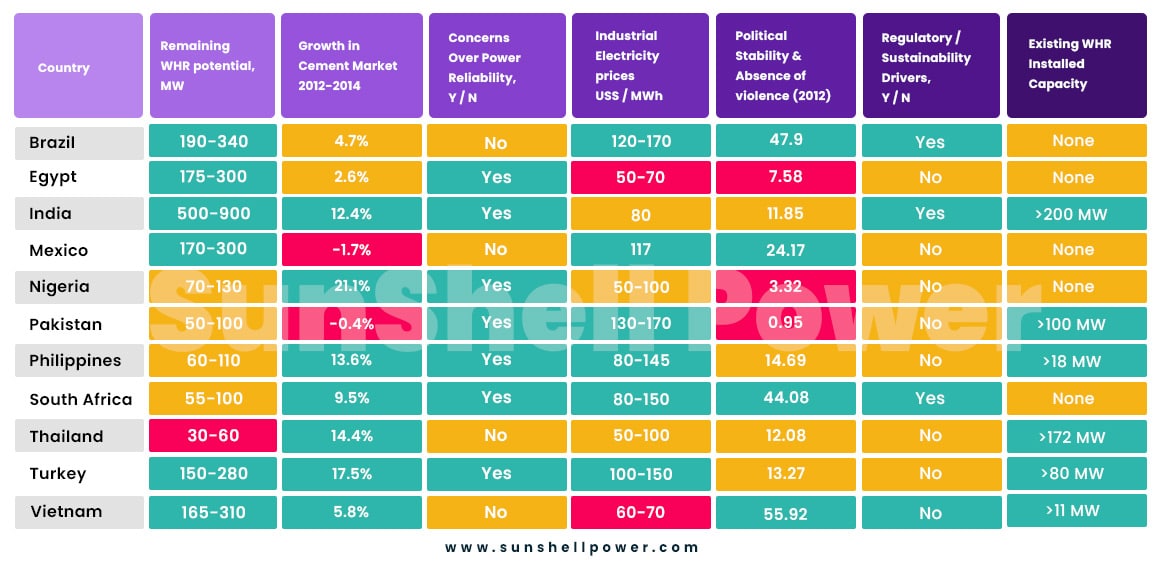 Become A Part of Green Future
As the world is evolving day by day ,cement factories are also doing their part to the net zero mission of the country. In March,2022 Dalmia Cement commissioned a 14.7MW solar power plant at its 1.3Mt/yr Kapilas plant in Odisha. Authorities of the Ultra Tech Cement installed a 2.5MW solar power plant in their 6 facilities throughout the country to cater the Government mandation of minimum power consumption from renewable power sources.
Enquire Now