Steel is an essential component of modern society's sustainability. In a country like India with a huge market , steel is the most important material in the industry due to its high tensile strength and low cost. In India there are 3647 no. of steel plants with 650 mini steel plants , producing an average of 142.24 million ton of crude steel per year . But in 2020, whereas the world production of steel was 1.86  billion metric tons, India's production decreased to a no. of 92 million metric tons.
The World Steel Association updated its Short Range Outlook (SRO) for 2022 in October of 2021.Steel demand is expected to expand by 4.5%t in 2022, reaching 1885.4 Mt following a 0.1% increase in 2020, according to Worldsteel.
Therefore more demand means more production of steel and hence requires more power supply with reliability.
But this increased demand of production results in more carbon emission in the environment. 70%  of the global steel production is dependent on coal.
Steel mills consume around 60% of total energy consumption in the metal subsector and emit 61% of CO2  from the sector.
Unreliability Leading Towards Disaster
Power distribution system in a steel plant is different from any other industrial plant due to the nature of load and its magnitude. Sinter plants, calcining plants, coke ovens, blast furnace blowers, basic oxygen furnace, oxygen plant, slab casters, and rolling mills are major process loads in a typical BF-BOF (blast furnace-basic oxygen furnace) route steel manufacturing process, whereas various services such as raw material handling, water, compressed air system, and miscellaneous auxiliary system are non process loads.
Because a steel plant is a continuous process plant with a high capital investment, the power network should be designed from a criticality standpoint so that any eventuality, such as grid power failure, power equipment failure, and internal power system disturbances due to poor power quality, constraints in the selection and sizing of equipment and accessories, can't put the processes in jeopardy, resulting in huge capital damage and financial loss due to looting.
In the year 2020, due to shortage of coal supply, prices of crude steel increased 4x times, further affecting the market. To produce 1 ton of steel , 1863.4 kg of CO2  is emitted and 1030 fully grown trees, around 6006.25 sq. meter of forestation are required for its recycling.
RPO Obligation
Under Renewable Purchase Obligation (RPO) bulk purchases like discoms, open access consumers and capacitive users are required to buy a certain proportion of RECs. They can buy RECs from renewable energy producers. RPO was instituted in 2011, it is a mandate that requires large power.
So, steel plants with captive plants are mandated to install a solar power plant of load mandated by the respective state and quarter.
Problems faced by Steel Factories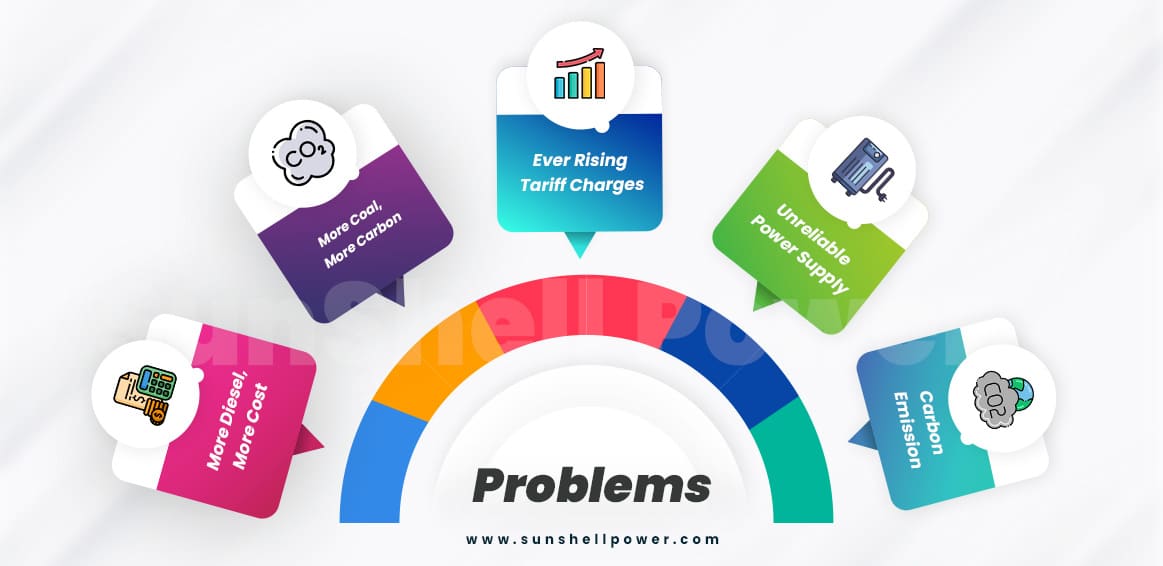 At present, the problems faced by the sector are as Follows
More Diesel, More Cost : As majority of the plants use Diesel as their backup power source , the increasing diesel price results in more cost for the facilities to bear.
More Coal, More Carbon : As majority of the plants use coal as the main power source,
Ever Rising Tariff Charges : As tariff charges go higher and higher, the electricity cost of various steel factories increases drastically,
Unreliable Power Supply : Recent power outages and rising cost of coal caused a huge problem in energy supply which required a huge energy backup, emitting an enormous amount of carbon and for the surge wattage to restart the furnace is very high .
Carbon Emission : As demand for steel grows year by year , the World Steel Association has predicted that in the year 2022 the industry will emit an extra 94 ton of CO2 . The current condition is not very good as well . At present the industry emits 8-9% of the global emissions.
Machineries Used
To dive deeper into the matter , at first we need to know about the machineries used and electrical load of the steel plants. An average Indian steel plant consists:
Blast furnace top gas recovery turbine units ,
Electric arc furnaces ,
Tundish slide gates ,
Ladle level and mold oscillation control of continuous casters ,
Continuously Variable Crown(CVC) , automatic gauge control ( AGC) , Hydraulic Gap Control ( HGC)
Roll bending and shifting
Coil handling
Bar guides in bar steel mills ,
Crushers & screens ,
Vibrating feeders , Reciprocating feeders, reversible feeders ,
Hot strip mill,
Silicon Treatment Plant ,
Working Process of Steel Factories
There are two main processes for producing steel : by means of a blast furnace or by means of an electric furnace.
For the blast furnace purpose, the main raw material is iron ore and for the electric furnace the raw material is sponge iron & scrap iron.
In a basic oxygen furnace , iron is combined with varying amounts of steel scrap (less than 30%) , after that very pure oxygen is blown into the vessel causing a rise in temperature to 1700°C. The scrap melts, impurities are oxidized and carbon content is reduced by 90% , resulting in liquid steel.
Electrical Load
In order to assess and analyze the electrical load of a steel factory, we need to know that the electrical load of a steel plant fully depends on the quantity of production of the plant . To melt a tonne of scrap steel , the theoretical minimum amount of energy required is 300 kWh.
To produce a ton of steel , an electric arc furnace requires approximately 440-650 kWh of energy.
Power Backup
Majority of the steel plants use coal and DG generators as their main power source. So , for these plants backup is not an option. But, those who use steel plants use DG generators as their main backup, 3000 kVA generators are widely used, emitting a huge amount of extra carbon, further affecting global warming.
So, What's The Way Out? Solar Solutions for Steel Factories!!
As technology evolves , human civilization moves towards renewable power more and more. Moreover, solar power plants are the most reliable power source among renewables. We, at SunShell Power, offer a solar rooftop solution for every problem in the steel plants. Solar modules have a life-span of 25 years with minimal maintenance which makes the plant a reliable power source.
In West Bengal , DSP has already added a 60 KWp capacity grid connected rooftop solar plant at their ED working buildings.
For steel plants , we offer three types of rooftop solutions.
Grid-connected Solar Rooftop Plant ,
Solar Submersible Pump,
Solar Street Light,
Energy Efficiency.
Grid-Connected Solar Rooftop Plant (On-Grid)
Reliable and efficient grid-connected solar power plant with minimalistic maintenance and available net-metering facility, a credit system through banking of power . If power cuts are not frequent and for facilities with a huge load , this type of power plants are ideal.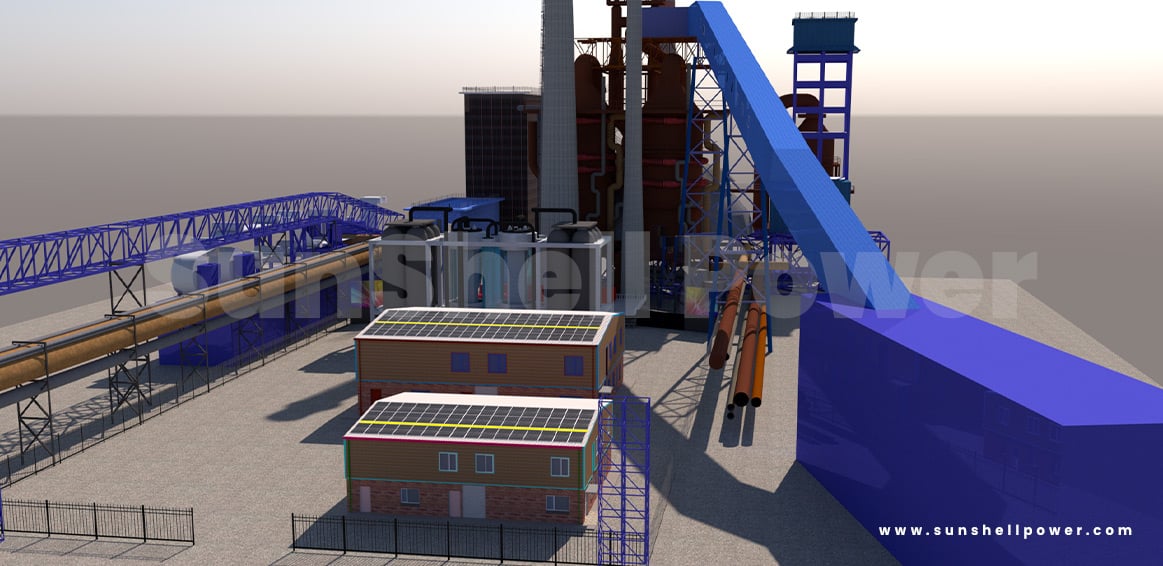 Why On-Grid ?
Even though, in SunShell Power , every solar plant is important and valuable for us, for steel facilities we would highly suggest the authority to install on-grid solar power plants. From our previous experiences , we have pointed out several points from which we have declared the Grid-connected Plant to be a clear winner :
These systems are best suitable when power consumption is really high and for cost reduction of electricity bills,
On-grid systems can be installed with or without net-metering,
On-grid solar systems are very cost-effective and easy to install,
As there is no battery backup , maintenance is minimal, which can be helpful in the busy environment of the hospital.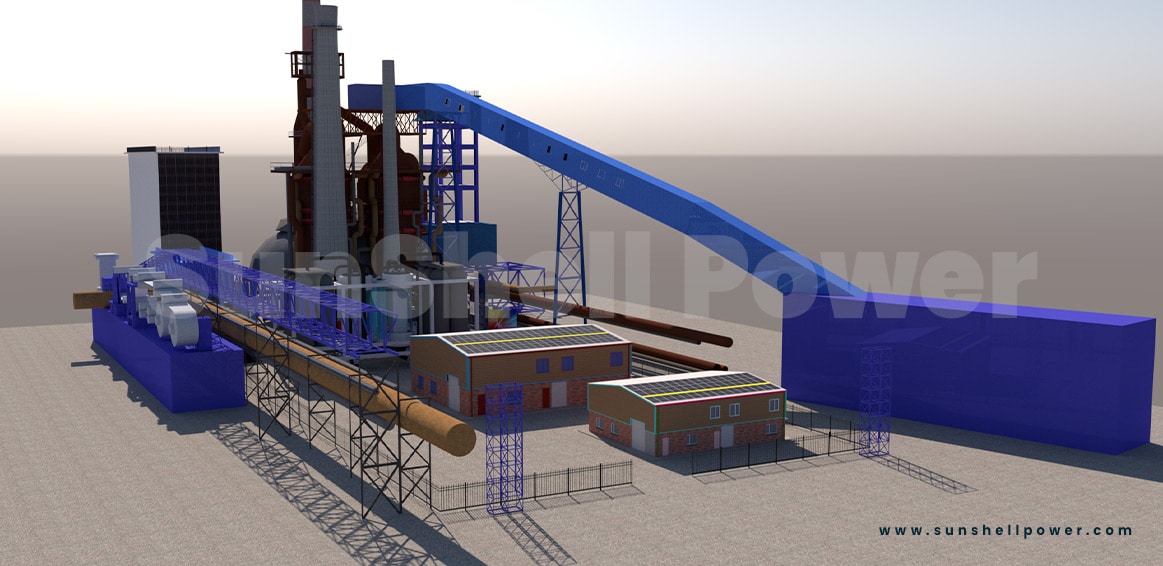 Benefits of Solar Solutions for Steel Factories
Now , the question may rise to your mind, why should I invest in solar ?
Apart from being eco-friendly and producing green energy, solar power plants are a great financial and economical investment , which is also a reliable source of power. Here, from the feedback of our previous consumers we have listed 6 overall benefits of solar,
Reduced electricity bills as dependency on conventional electricity & DG is reduced,
Government gives subsidy for solar panels installations ,
Tax benefits by going for accelerated depreciation,
Low maintenance and long life-span,
Environment friendly solar power is the best way to preserve our planet,
Proper utilization of the bank space on the roof shades,
Average ROI
The  average ROI of a grid-connected solar plant in a steel factory is around 3.5-4.5 years, it can change based on the load of the steel factory.

Alternate Solutions
Solar Submersible Pump : As the govt. has mandated the plants to have a toilet for public use , this type of pump is ideal for pumping water from underground for toilet and sanitization purposes.
Solar Street Lights:
Two-in-one (Semi-integrated) : Used for a variety of purposes, these are easy to install and are low -maintenance.
Solar Mini Mast : Best for places with unstable power sources, uses green energy and needs almost zero maintenance.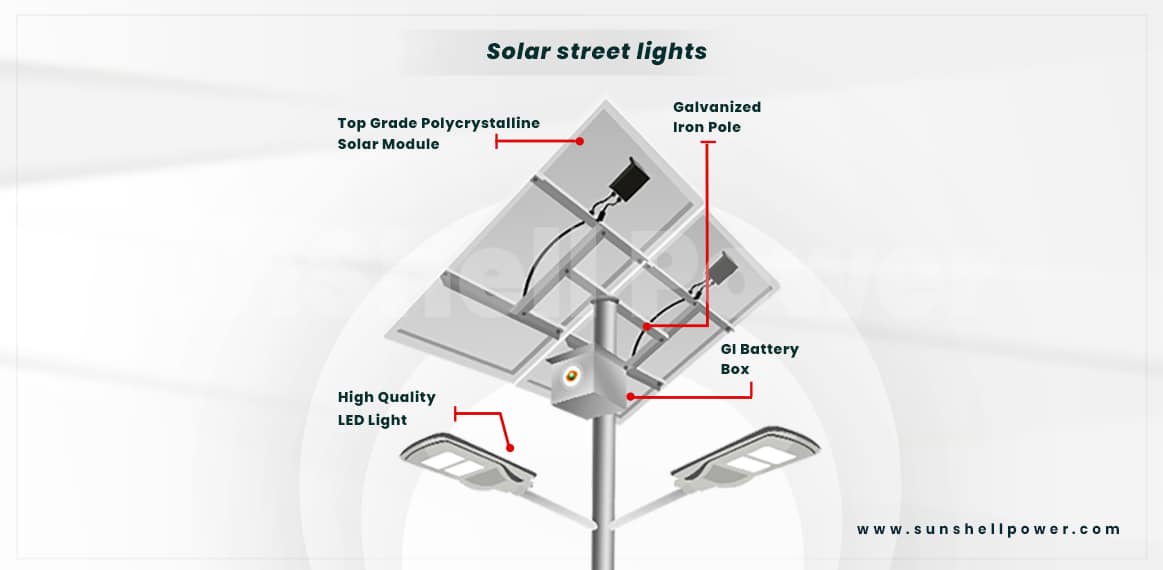 Energy Efficiency : Not only green energy production but preserving and using energy in an efficient way must also be our approach to reduce the energy requirement of a cement plant.
WHR system is usually in these facilities to use the excess lost energy in the facility.
Waste Heat Recovery
Molten slag (35%) and hot exhaust waste gases (10%) are the major sources of High-temperature Waste Heat Energy in the steel-making process.
Waste heat recovery and utilization will become, and already is, a cornerstone for future energy efficient steelmaking, particularly as energy efficiency is critical for reducing carbon dioxide emissions and conserving fundamental resources.
In a steel plant there are different waste heat sources available :
Hot off-gases,
Cooling water,
Hot intermediate products like slabs, billets etc.
Hot slags.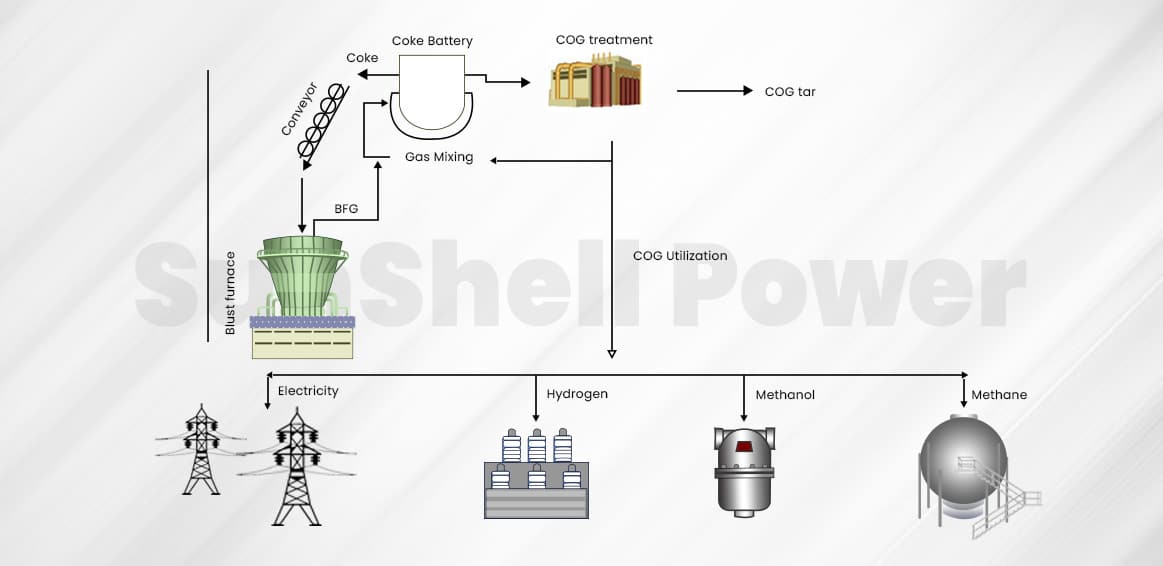 The exhaust fumes from the furnace are directed into a container containing refractory material like aluminum oxide. The heat energy from the exhaust is collected and stored when the exhaust gas heats up the aluminum oxide.
In a Waste Heat Recovery Power Plant can tap the excess energy. A boiler recovers exhaust gas heat that is dumped into the atmosphere at 250-350℃ and uses it to create energy in a stream turbine.Power generation is feasible without the need of extra fuel, resulting in energy savings in the production. This is largely used in cement plants and steel factories with high energy usage.
Many steel making plants use this process as an economic method to increase production of the plant with lower fuel consumption.
Recuperators: This is the term given to several types of heat exchangers that the exhaust gases pass through, which are made up of metal tubes that convey the incoming gas and so preheat the gas before it enters the process. The heat wheel is an example of a device that works in the same way as a solar air conditioner.
Regenerators: These are industrial units that recycle the same stream after it has been processed. The heat is regenerated and utilized in the process in this sort of heat recovery.
Heat Pipe Exchanger: One of the greatest thermal conductors is heat pipes. They have a hundred times the heat transfer capacity of copper. In renewable energy technology, heat pipes are most commonly associated with evacuated tube collectors. Due to its transmission mechanism, the heat pipe is mostly utilized in space, process, or air heating, where waste heat from a process is transported to the surrounding area.
A thermal wheel, also known as a rotary heat exchanger, is a circular honeycomb matrix of heat-absorbing material that is gently spun within an air handling system's supply and exhaust air streams.
Economizer: In process boilers, waste heat in the exhaust gas is transported down a recuperator that transports the boiler's inlet fluid, reducing the inlet fluid's thermal energy intake.
Heat pumps: By using an organic fluid that boils at a low temperature, waste fluids may be used to create energy.
Run Around Coil: Two or more multi-row finned tube coils are linked by a pumped pipework circuit to form a run around coil.
Particulate filters (DPF) catch pollutants by maintaining higher temperatures near the converter and tail pipes, hence reducing exhaust emissions.
Benefits of WHR
Improved Efficiency:The recovery of waste heat has a direct impact on the process' efficiency. The reduction in utility usage, cost, and process cost reflects this.
Pollution Reduction:A number of toxic combustible wastes such as carbon monoxide gas, sour gas, carbon black off gasses, oil sludge and other plastic chemicals etc. , releasing to the atmosphere if/when burnt in the incinerators serves dual purpose, recovers heat and reduces the environmental pollution levels.
Reduction In Equipment Size: Waste heat recovery lowers fuel usage, lowering the amount of flue gas generated. As a consequence, the sizes of all flue gas handling equipment, such as fans, stacks, ducts, and burners, are reduced.
Reduction In Operational Cost : There will be less fuel usage if waste heat energy is recycled and reused. Reduce industry's operational costs. Companies may save a lot of money and lessen their environmental effect by upgrading to the most energy efficient technologies available. In other words, the industry will benefit more.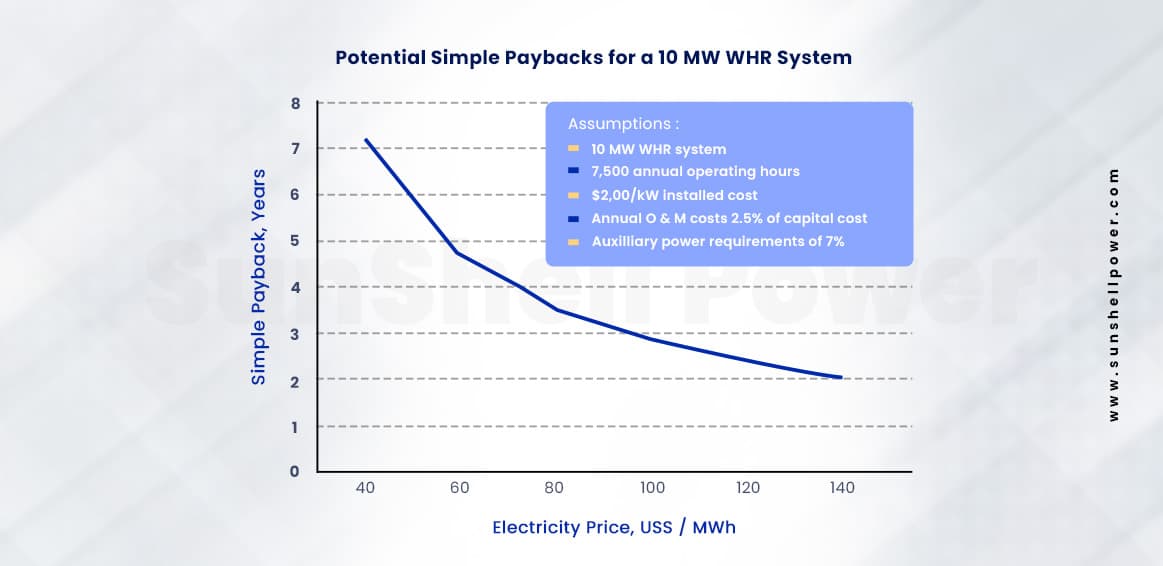 Become A Part of The Green Future
As the world leads towards the net-zero target , India has also set a target of net-zero by the year 2070. Govt. are offering various schemes and policies for solar installations.
Indian steelmaker Godawari Power & Ispat Ltd. has announced plans to build a 250 MW solar plant in the state of Chhattisgarh. Tata Steel has announced plans to set up a 41MW rooftop solar project to power their factories. For the Jamshedpur facility a plant of capacity 21.97 MWp has been announced and for the Kalinganagar the no. is 19.22 MWp.
Enquire Now