A grid-connected system does not include batteries, unlike traditional solar power plants or standalone power systems (or OFF-Grid power plants). On Grid Solar Power Plant electrical inverters convert direct current (DC) to alternating current (AC) voltage produced by solar panels, which can be operated in parallel with the electric power supply grid. If the conditions are favorable, the PV system connected to the grid sends the excess electricity to the utility grid, above and beyond consumption by connected load.
On-grid rooftop system is usually in sync with the grid. For organizations with guaranteed supplies of on-grid electricity, this system is recommended. As the plant will not work if the grid doesn't work if you suffer from frequent power outages. This solar rooftop system allows power to be used from the grid supply only the solar rooftop system is unable to supply the required power.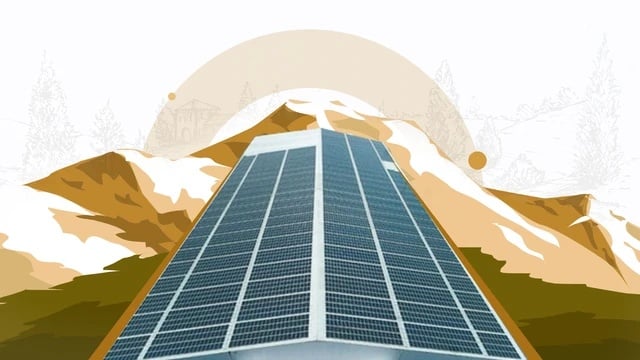 Businesses can believe on-grid solar systems to satisfy their daily requirements, also as earn income from the excess power generated. On bright sunny days, buildings can generate enough solar energy to power appliances, lights, water heating systems, etc.
On-grid solar systems are very cost-effective and easy to place in. Businesses can recoup the worth of their investment by offsetting electricity bills in just 3-8 years. If a private, commercial or industrial building sets up a solar PV rooftop system it'll be eligible to avail an 'Accelerated Depreciation Benefit' which is currently 80% during a year. At this rate, a business can completely depreciate the whole value of the project in approximately 4 years.
The biggest benefit of on-grid solar power plants is through the solar power system is connected to the grid, the consumer has to pay only for the surplus electricity he consumes. The bill generated monthly determines whether the buyer has any payments to be made.
With a connection to the grid, the customer can charge for the surplus electricity he has generated. It not only eliminates your electricity bills but also avails the value benefits for the surplus electricity generated.
Very affordable
The cost-efficiency of this option can be attributed to the fact that there is no need to buy batteries and some other equipment.
Freedom from buying expensive battery storage
Since there is no need to buy a battery, which is the most expensive component, you do not have to worry about damaging the battery by under or over-charging.
Very reliable
Saved solar radiation in the utility grid can be used during power shutdowns.
You use 100% renewable energy
Grid-connected solar systems use clean, renewable power to generate energy that in turn positively impact human beings and the environment.
Easy installation
You do not need immense knowledge in connecting your solar system to the grid. It is a relatively simple process.
Very resourceful and effective
The grid-connected solar system uses a very simple working process to produce energy.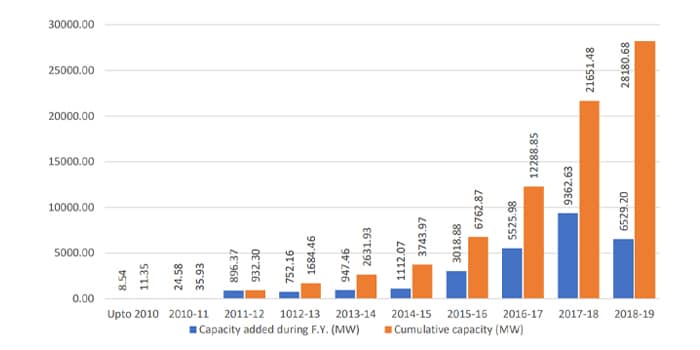 FAQ
Still not sure? Here are some answers to the frequently asked questions.
What are the advantages of installing Grid Connected Rooftop Solar PV Power plant?
It brings down your electricity bill.
You contribute immensely towards environmental protection.
Consumer generates electricity according to his necessity.
Surplus power can be supplied to the Grid.
Reduction in electricity bill, as it is prepared after adjusting import and export of power.
MNRE, GOI provides a 30% subsidy on installation of Rooftop solar power plants in the domestic sector and non-profit-making institutions.
Reduction in payback period after availing Generation Based Incentive (GBI).
What happens with grid connect systems during a blackout?
The grid connects inverter will automatically shut itself off within a few milliseconds of a blackout. This avoids the potential of a dangerous "brown-out" in your home and prevents back-feeding into the grid. Therefore even though you have a solar system during a blackout you will not have power available. If you want to keep on having electricity available during a blackout then you would need backup batteries. This will add to the cost of the system.
What are the requirements for installing Grid Connected Rooftop Solar PV Power Plants?
A Minimum vacant roof area of 10 – 12 Sq. mtr or 100-120 Sq. Ft is required for the installation of a 1 kWp SPV system.
The Consumer shall have a 3 Phase/ 1 Phase supply service connection.
Mandatory safety precautions/features shall be installed as per the norms.
A Single bi-directional meter shall be installed for export and import.
The standard equipment as per the norms of MNRE shall only be installed.
How much roof area is required to set up the Grid Connected Rooftop Solar PV System?
About 10-12 Sq.mt area is required to set up 1 KWp Grid Connected Rooftop Solar PV System.
What type of warranty comes with the system?
Solar Panels: minimum 10-year product warranty and 25-year performance guarantee
Inverter: 5 – 10 year warranty
Mounting System: 10-year product warranty (manufacturer)
Workmanship: 5-year warranty on workmanship (installer)
Is there any maintenance?
With a grid-connected system, there is very little maintenance. Electronic components should be maintenance-free.