In India's economy, agriculture and cultivation are crucial. India's agricultural industry contributed more than 5.6 trillion Indian rupees to the GDP of the nation in the second quarter of 2021, with a CAGR of 4.9% from 2021 to 2027. Approximately 54.6% of the overall workforce is employed in activities related to agriculture and related sectors.
An adequate amount of water supply is essential for irrigation. Currently, 70% of all freshwater withdrawals worldwide are used for agriculture. In this nation, the percentage is 80%.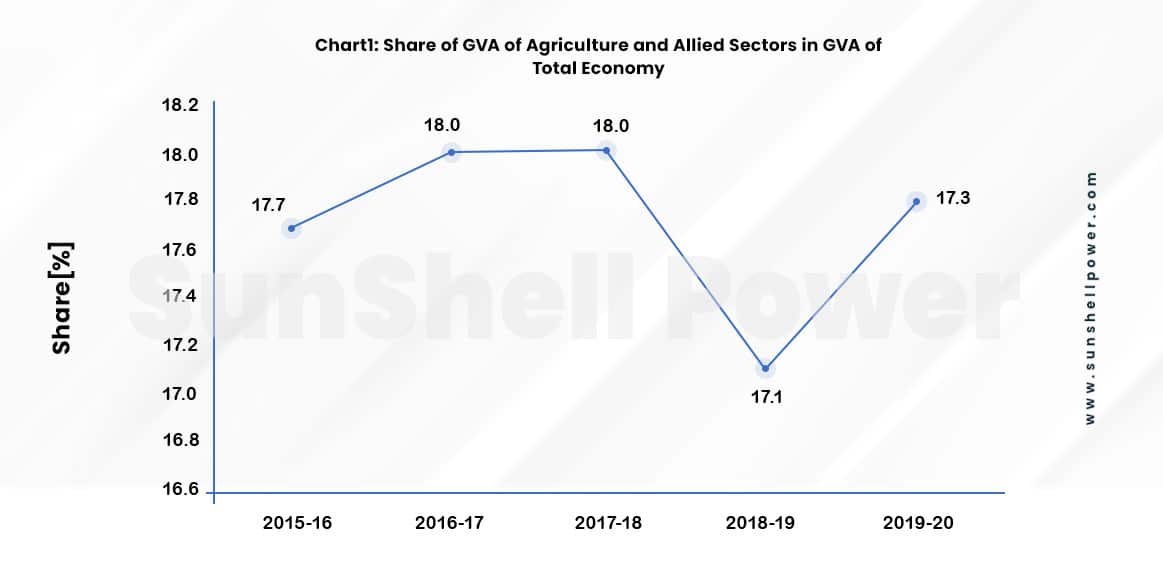 Around 395 million acres of India's land is arable. The nation grows 24 different vegetable crops and more than 461 different vegetable kinds on this enormous tract of land. The world's second-ranked producer of fruits and vegetables, the annual output of vegetables alone is estimated to be over 191.77 million metric tons.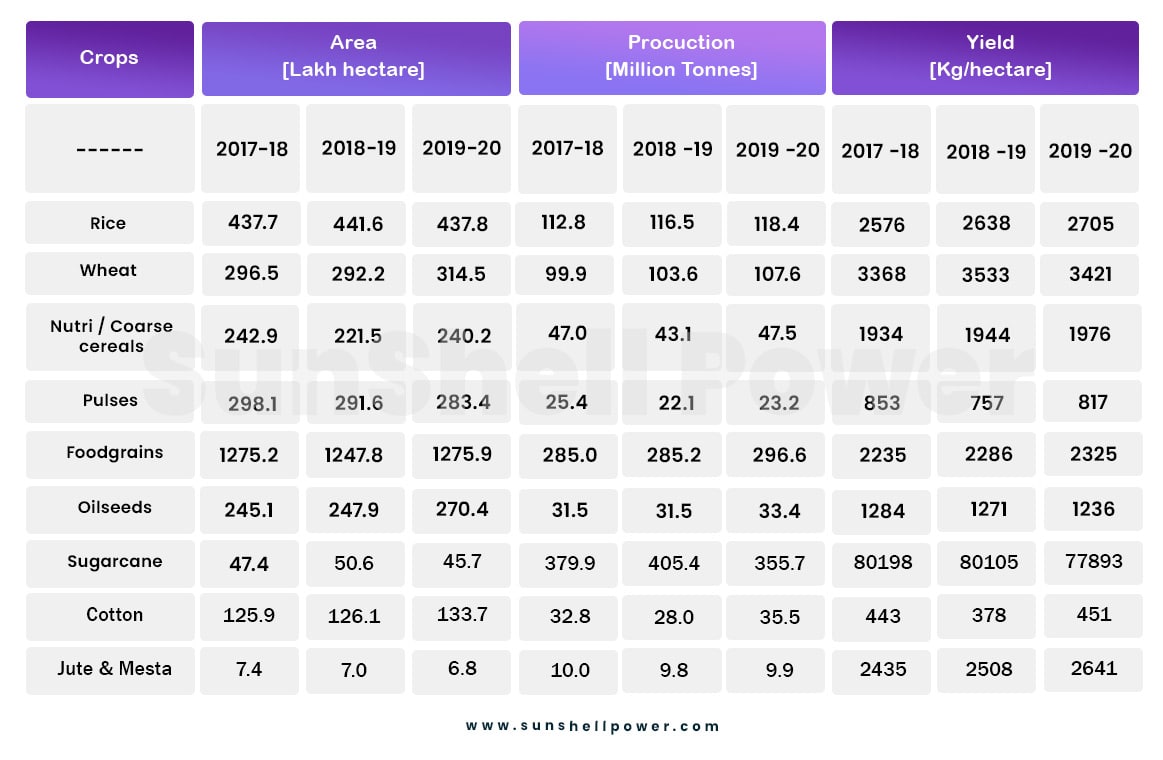 Even though the country's irrigation market is enormous, there are specific fundamental issues with the production process.
Currently, irrigation systems cover roughly 51% of the agricultural land used to grow food grains. The remainder of the region relies solely on rainfall, which is often unexpected and unreliable. Approximately 140 million hectares of agricultural land are irrigated.
The unavailability of reliable power sources and supplies disrupts the flow of water to the cultivated land.
Water is an essential component of agricultural productivity and is crucial to food security. 20% of all farmed area is used for irrigation agriculture, which generates 40% of all food produced globally. So, proper water supply during the required time plays an important role in harvesting and deeply affects the total amount of crops produced.
Due to a lack of reliable supply of water, around 16% of fruit and vegetable seeds and saplings get wasted every year. Up to 10% of
oilseeds, pulses and cereals are grown in India are also completely wasted.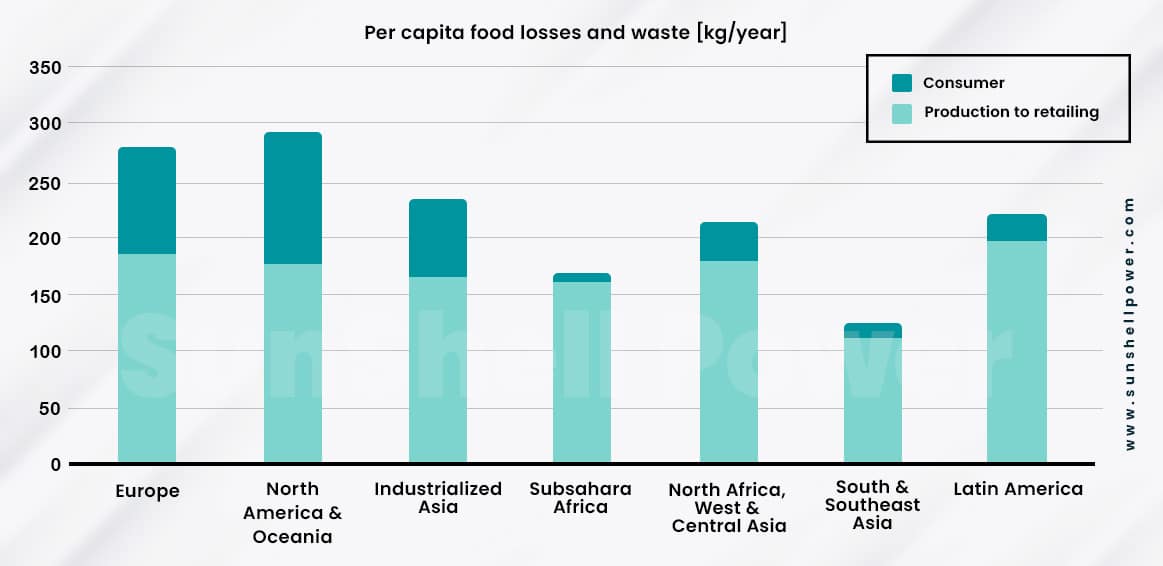 Components & Working Process of Farming:
Soil management, crop management, water management, and waste management are often the three main aspects of farming.
Agriculture is the first sort of farming that comes to mind when someone mentions it, but there are other types as well. India produces a wide variety of crops because of the sub-continental climate there.
The following table shows the many kinds of fruits and vegetables grown in India: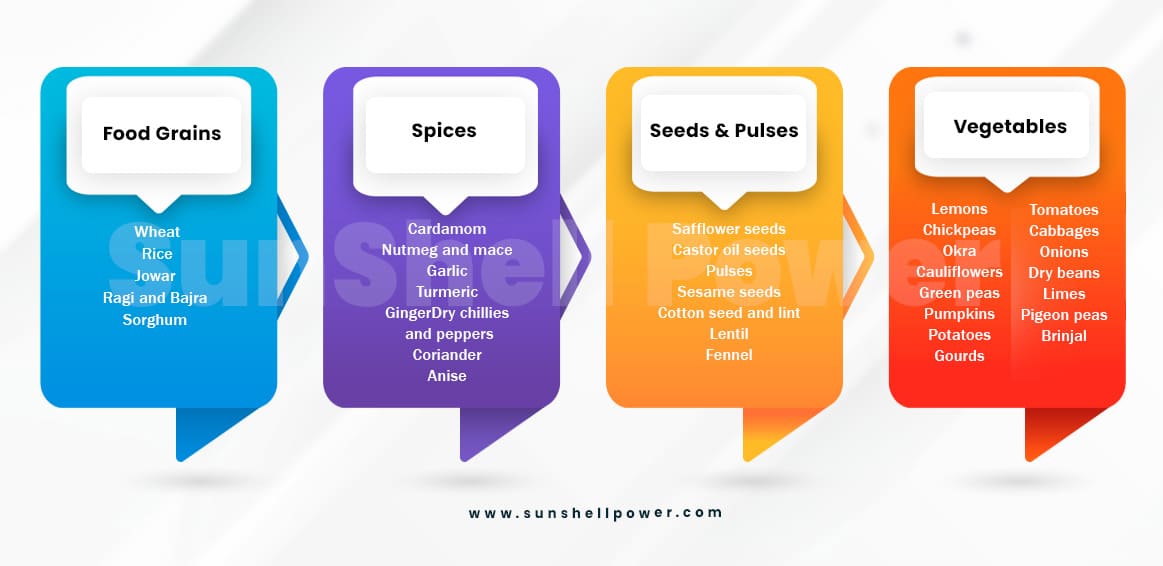 Dairy farming is one of the most important agricultural sectors in India, along with crop farming. Dairy farming is a significant industry in India, accounting for around 27% of the country's agricultural Gross Domestic Product (GDP).
Soil management and water management are key factors in agricultural cultivation. Most farmers often employ submersible or single-stage pumps to provide a steady flow of water for water management needs. The needed water flow rate, pump pressure, pump head, and other factors affect the pump's horsepower whereas, for dairy farming, there are a lot of components involved.
Vacuum bucket milking equipment and milking parlours are the mainstays of dairy and milking farms. Usually in India, a commercial dairy farm should consist of a minimum of 30 animals.
Under tropical circumstances, a dairy cow needs at least 800 cubic feet of air space in order to function properly.
Electrical Load:
The electrical load of an agricultural farm majorly depends on the pump or pump set, used in the farmland. For a 1HP submersible pump with a full load, the output power is around 0.746 kW. Therefore, if a 1HP submersible pump runs for 1 hour approximately, 0.7 units of electricity are consumed.
As for the 2HP pump, the power consumption is 1.5 units per hour.
Now, more than 10,000 dairy cow farms globally. Electric consumption is one of the most critical and unpredictable operating expenses of these AMS. The electricity expense for major dairy plants might occupy up to 35-40% of their yearly operating cost. Reports claim that roughly 62% of the electrical energy is utilized by the farms at a higher-cost day rate. As for dairy enterprises, figures reveal that to make 1 litre of milk at roughly 23.03-76.29 Wh energy is necessary.
The graphic below displays daily dairy farm electricity demand: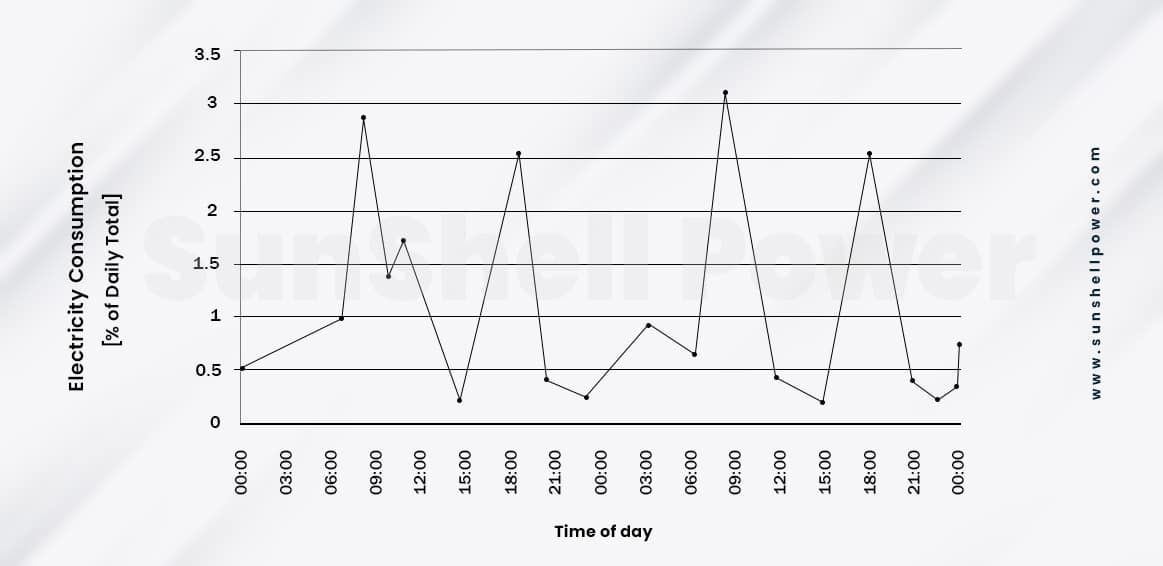 Problems:
Due to high electricity demand and inefficiency and lack of distribution network, the agricultural sector of the country is facing some major problems.
Grid-Unavailability: Some of the farms in India lack a steady grid electrical supply since the nation is geographically dispersed and has a variety of terrain types. As a result, even if certain agricultural facilities and areas demand a lot of water supply, most seeds and harvests are squandered owing to unstable power.
Costly Diesel Causing Catastrophy: As was said above, the majority of farms are compelled to utilize diesel generators as their power source since they lack access to electricity for water delivery. Due to diesel's high cost as a fuel, these businesses' operating expenses grow dramatically, which negatively impacts their net profits and prevents them from maintaining their operations.
Carbon Emission: Diesel generators release a significant quantity of CO2, which contributes to global disasters like global warming and climate change since the majority of farms lack a steady power supply.
Carbon Emission Affecting Life-stocks: Since recent research has shown that too much CO2 causes pain and misery even at low concentrations, the Human Society of the United States (HSUS) has vehemently opposed the use of any sort of gas chamber, particularly CO2 chambers. Therefore, using too many diesel generators harms farm animals physically.
So, What's The Way Out? Solarizing Farms!
Human civilization is increasingly moving toward renewable energy as technology advances. Solar power plants are also the most dependable renewable energy source. SunShell Power provides a solar rooftop solution for any farming facility. Solar modules have a 25-year life expectancy and need no maintenance, making the plant a stable power source.
For farming purposes, we offer three types of solar solutions:
Solar Pumping System
Grid-connected Solar Rooftop Plant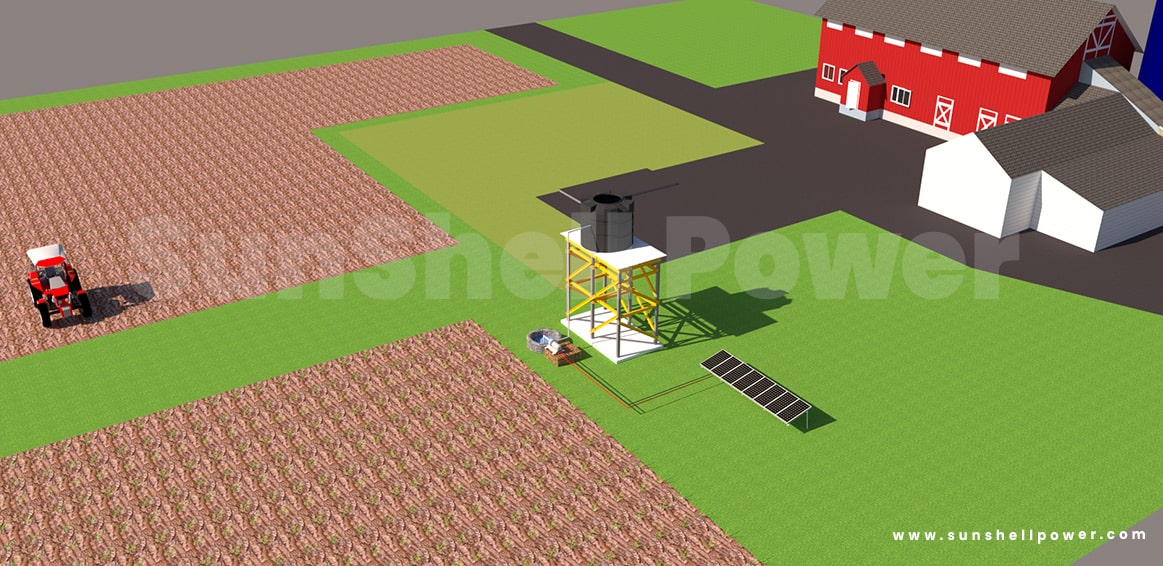 Solar Pumping System:
As the majority of the farming lands suffer from a lack of grid energy, solar pumping systems can be the best solution to this problem.
Solar pumps function similarly to any other pump set with the exception that it is powered by solar energy rather than non-renewable energy. Direct current (DC), created when sunlight hits the solar panels, is delivered to the motor and causes it to pump the water out. Although the DC produced by solar panels is converted to AC via an inverter when a motor requires alternating current (AC).
Solar pumping systems are the finest for expanding farms' financial and operational viability for agricultural production. For different types of water resources, there are different types of water pumps available.
Solar Submersible Pump:
These solar-powered pumps remain immersed in water below ground level. It is utilized to extract water from underground. Most fish aquacultures use this type of pump for water supply. There are various pumps of various capacities, depending upon the requirement of the consumer. For new and upcoming fish hatcheries it is best to use these types of pumps for their underground water supply as the first step should be toward a green world with the additional benefits of the product.
Benefits:
Less dependence on grid-connected energy,
A warranty period of 5 years( Normal submersibles offer a warranty period of 1 year only),
Zero maintenance & breakage percentage below 5%,
A step towards the green future.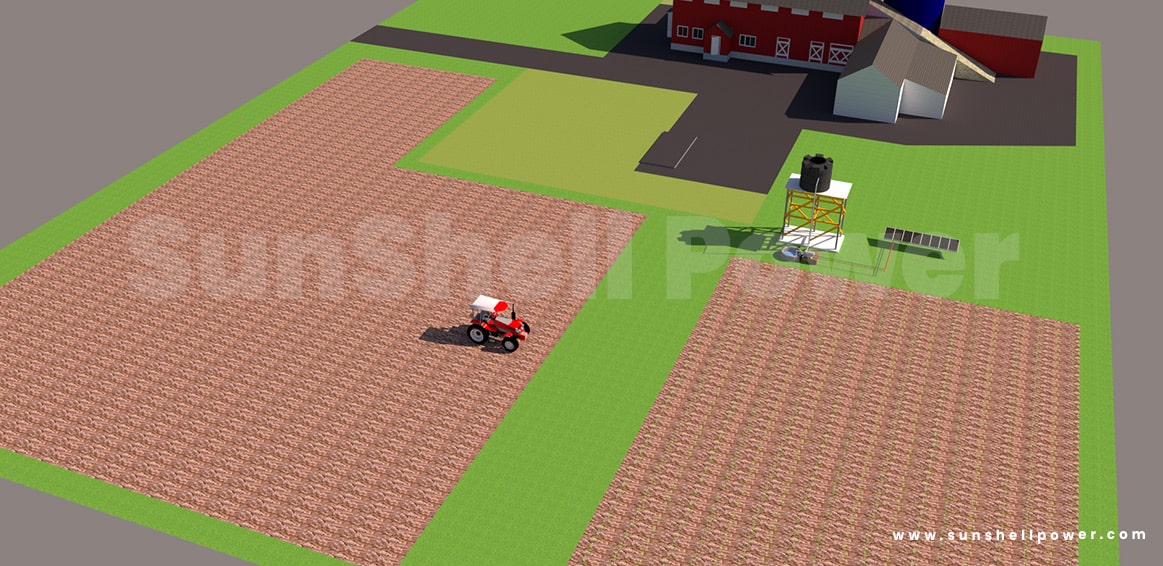 Solar Surface Pump:
Surface pumps are used to pump surface water from sources such as springs, ponds, tanks or shallow wells etc.
These pumps can be used in water supply and sprinkler systems for the harvesting and growth process of the fish eggs. The self-priming nature of these solar pumps allows them to spread water across a vast area.
There are also various types of surface pumps to cater to all the needs.
Benefits:
No fuel cost – as it uses available free sunlight,
Long Operative Life,
Highly reliable and durable with a break percentage of less than 3%,
Easy to operate and maintain,
Eco-friendly with an inclination towards a green Earth.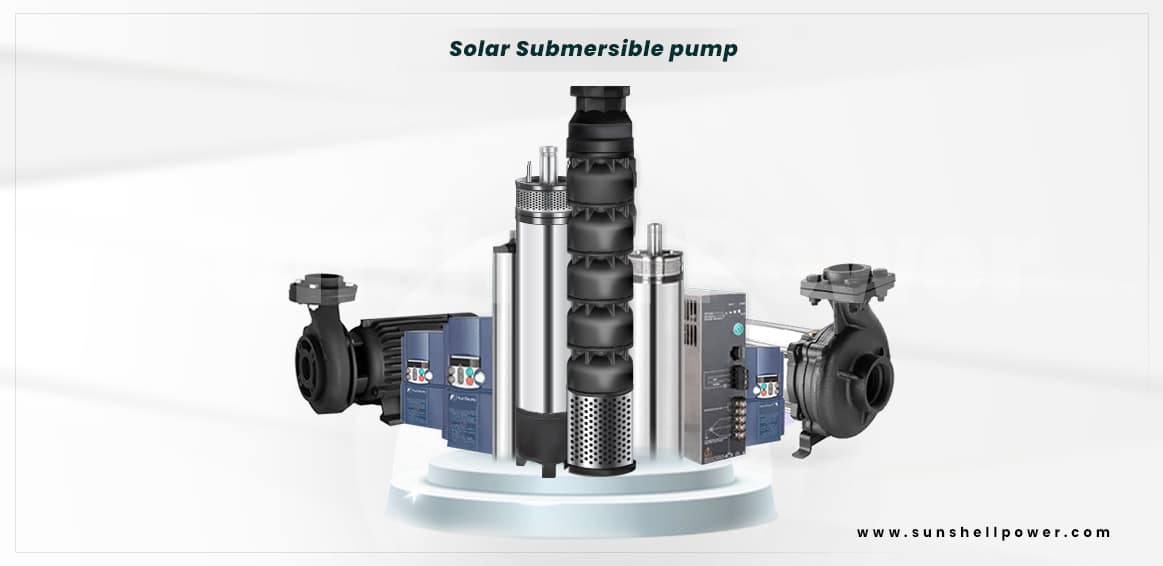 Grid-connected Solar Rooftop Plant:
Grid-connected rooftop solar power plants are practical, particularly for dairy farming facilities. In many automated dairy farming facilities, there is a lack of cost-effective and dependable electricity. Due to the high operating costs of traditional grid electricity, the majority of farms see a decline in the productivity of their cows and other animals.
A grid-connected solar power plant that is dependable and efficient, with little maintenance requirements and the ability to use the credit system known as net metering. For a dairy farm with an average production capacity of 600 liters per day, we recommend a 4.5kW on-grid plant.
Why On-grid?
These systems are best when power consumption is very high and you wish to reduce the electricity bills,
Lack of dependency on a reliable power source,
On-grid systems can be installed with or without net metering further being a revenue generator itself,
On-grid solar systems are very cost-effective and easy to install,
On-grid systems are maintenance-free which makes their maintenance hassle-free.
Benefits of Installing Solar: Solar Farm:
Now, the question may arise to your mind, why should we invest in solar?
Apart from being eco-friendly and producing green energy, solar power plants are a great financial and economical investment and also a reliable power source. Here, from the feedback of our previous consumers, we have listed 6 overall benefits of solar
Hedge against rising energy costs
Self-reliance
Green Commitment
Carbon Neutral
The government gives subsidies for solar panel installation
Average ROI:
The average payback period of a solar plant installed in a fish hatchery is around 4.5-5 years. Though the payback period can differ based on the production rate and size of the fish hatchery.

Government Schemes:
The Indian Central Government is aware of the inadequate water supply in its agriculture sector. The government has created and adopted a number of programmes, including PMKUSUM and the Jal Jeevan Mission, to encourage the construction of solar energy facilities and other renewable energy sources to meet the nation's energy demands.
Become A Part of The Green Future:
As the world moves more and more toward green energy and renewable energy plants, residential complexes also need to adapt to green solar power plants to reach the target of net-zero emission by the year 2070, a target set by the Central Government of India.
With the assistance of many central government programmes, the majority of farmers are installing solar pumps on their fields for irrigation reasons. Various states, including Madhya Pradesh and Arunachal Pradesh, have allotted a number of pumping systems to be carried out under the programmes.
Under the PM-KUSUM initiative, India installed around 181,000 solar pumps in three years, till 2020.
There are quite a few examples of successful solar pump installations done by SunShell Power under Jal Jeevan Mission, PM-KUSUM YOJNA. Some of them are various 2 HP BLDC Solar Drinking Water systems in Sahibganj, supply of filtered drinking water at Ahom Pathar, Sorbhog, Assam under Jal Jeevan Mission of Gol.
Enquire Now