In the ever-changing world and in a country like India, education has become a basic need of modern life. It is a human right and not a grant. 13,500 villages in India have no schools. In states like Bihar, Arunachal Pradesh and Rajasthan, the literacy rate is only 61.
Following the outbreak of Covid 19 last year, the education landscape in India has changed dramatically. The use of various gadgets inside and outside schools has increased as India has recently become the largest market for desktop and cell phones. The use of modern methods, techniques and gadgets has also increased in educational institutions, making electricity the most important component of the sector.
Reports from independent surveys by Indiatoday and Quint indicate that of the 10,83,678 government schools in India, more than 44% do not have electricity. In many rural areas of India, only 37.3% of five-year-old children attend preschools and schools. According to a survey, although there are 14,94,052 schools in India, there is a huge shortage of schools in the rural areas of the country because to set up a school with proper infrastructure and modern equipment, the conventional grid power system is not enough.
As India is becoming a more education-oriented society, the demand for quality and affordable education is rapidly increasing.
Issues faced by Schools:
The question now arises as to what problems the school education system faces in using conventional power.
1. Smiles leading to Wail : About 75% of all asthma cases are caused by CO2 emissions. In 1993, the percentage of asthma children was only 5%, but as emissions increase day by day, the percentage will increase to 16% by 2020. The fly ash emitted by power plants to generate electricity used in various educational institutions to brighten the future of students directly harms them.
2. Unreliable electricity leads to unreliable teaching: Frequent power outages paralyze all teaching, and students suffer the most.
3. Ever-increasing tariff fees: As tariffs continue to rise, electricity costs in various healthcare sectors are increasing drastically, further driving up the cost of schooling for the average Indian parent.
4. Carbon Emissions: As the demand for secondary schools and kindergartens in India is increasing day by day, the demand for electricity in this sector is also increasing. Therefore, carbon emissions are also expected to increase. The average size of an Indian classroom is about 700-800 sq. ft. To light an average sized classroom, 85 kg of CO2 is released every hour, so 1417 trees need to be recycled every hour.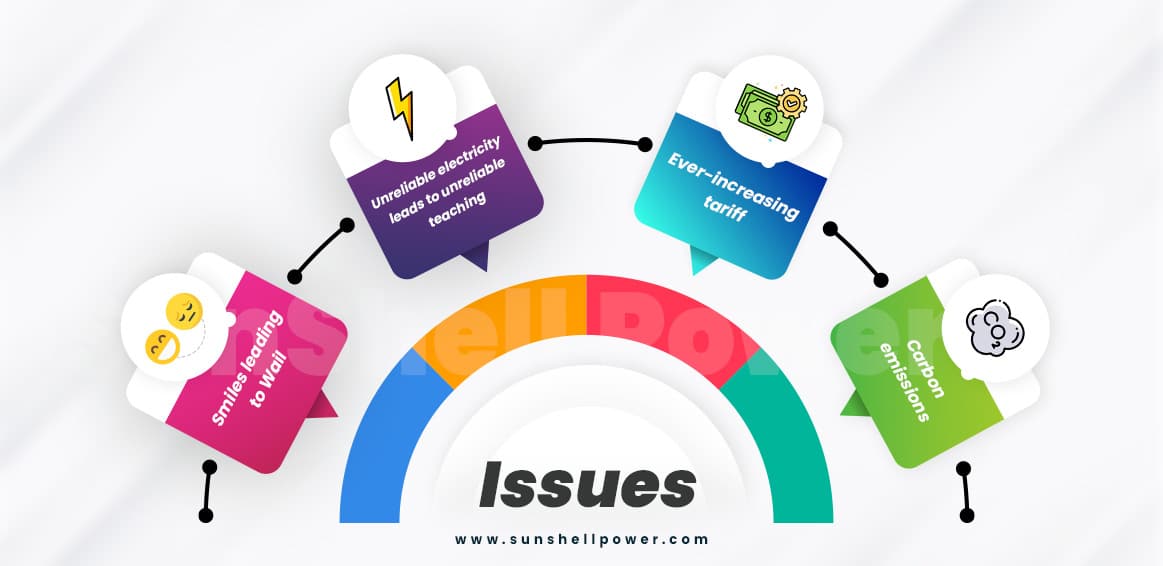 Electricity consumption :
to look at the matter in more detail, we first need to know how much electricity an average Indian school requires to be operational.
To determine the electrical load of educational facilities, we must first categorize and then address the issue.
For schools and preschools, lighting is the most important component. The power consumption of a lamp used in school classrooms is 2-6 watts/sqm. In India, the energy consumption of a preschool per day is 91.5 units.
Emergency power supply:
Although uninterrupted power supply is the most important requirement for any educational institution, most Indian schools do not have a backup power generation system for the sector.
Therefore, backup power supply and uninterrupted power supply is very important.
So what is the way out? Solar Solutions for Green Schools!!!
Human civilization is increasingly moving towards renewable energy as technology advances. Solar power plants are also the most reliable renewable energy source.
At SunShell Power, we offer a solar rooftop solution for every problem in the educational sector because we value the importance of education to the progress of our country.
Solar panels have a 25-year lifespan with minimal maintenance, making it a reliable energy source.
We offer three types of rooftop solutions for educational institutes:
Grid-connected solar rooftop system ,
Hybrid solar system,
Off-grid system.
Grid-connected solar rooftop power system (On-Grid):
reliable and efficient grid-connected solar power system with minimal maintenance and available net metering, a credit system by storing electricity. If power outages are not frequent, this is the best solution for schools.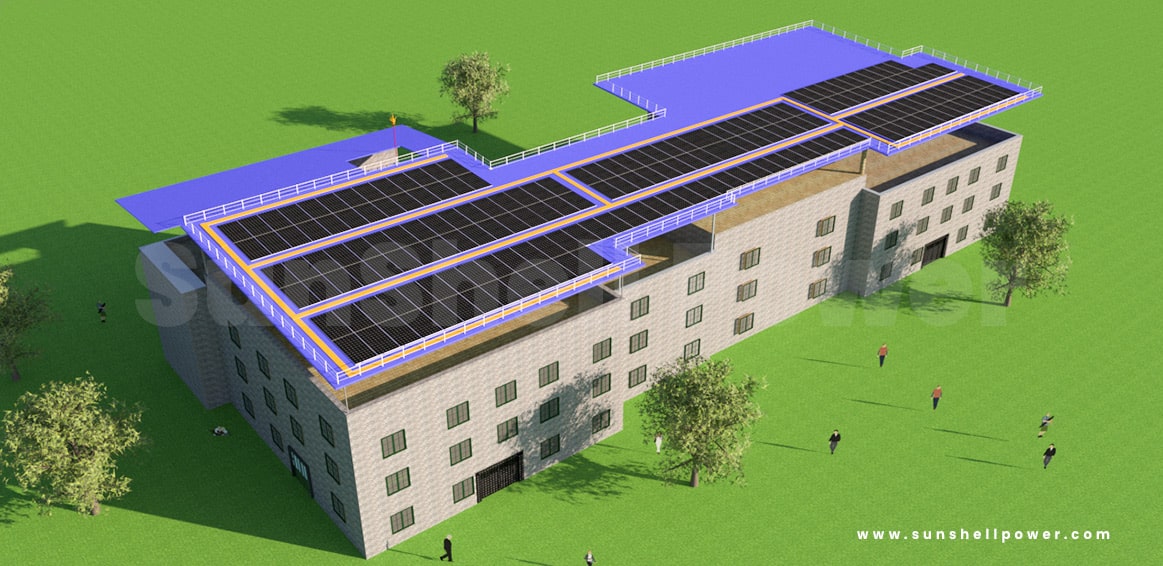 Why On-Grid?
While any solar installation is important and valuable to SunShell Power, we'd strongly recommend that the Education Sector install on-grid solar power plants. Based on our experience to date, we've selected a number of factors that have led us to believe that grid-connected is the clear winner:
Grid-connected solar plants don't emit harmful ash that can affect the health of young people
These systems are best suited when electricity consumption is very high and to reduce electricity bills,
Grid-connected systems can be installed with or without grid feeding,
Grid-connected solar systems are very cost-effective and easy to install,
Since there's no battery backup, maintenance is minimal, which can be helpful in the busy environment of a cold shop.
In short, grid-connected systems are the most reliable source of power during the operational period of an educational institution. Recent surveys have shown that in states where power outages are much higher, literacy rates are much lower.
In the state of Bihar, the literacy rate is only 61.80 and the power outage time averages 6 hours per day, while in the state of Arunachal Pradesh, the literacy rate and average outage time are 65.38 and 3 hours respectively, with the outage time rising to 7 hours in the May-June season.
More than 37% of schools in India don't have electricity because the power grid is down or unavailable.
Benefits of installing solar panels and Solar Solutions for Green Schools:
Now you may be asking yourself, why should I invest in a solar system?
Apart from being environmentally and child friendly, solar power plants are a great financial and economic investment that also provides a reliable source of energy. Here we've listed the general benefits of solar power systems from the feedback of our previous customers:
Since solar panels don't emit harmful gases or toxic ash, they're safer for youngsters. Studies show that after 2016, which saw a surge in solar installations in India, asthma cases among teenagers dropped from 20% to 16%.
lower electricity bills as dependence on conventional electricity is reduced,
government subsidies for solar,
tax benefits due to accelerated depreciation,
low maintenance and long life,
Environmentally friendly solar energy is the best way to protect our planet,
the proper use of free space on the roof.
Average ROI:
The average payback period of a grid-connected solar system in an average school is 3.5-4.5 years.

Power plants with storage capability :
Hybrid solar power plant : As in rural areas most of the schools suffer from frequent power cuts and there's a need to back up the power supply to the school, hybrid power plants are preferable as the backup battery reduces the dependence of the facilities on the DG backup engines and thus has less impact on the environment. However, as the required load is much higher in an average-sized school (secondary school, post-secondary schools), batteries with higher quality and larger storage capacity are recommended.
Off-grid solar power system: Hybrid systems are costly and can exceed the initial investment budget of many institutions to install a solar system with backup. In case of frequent power cuts and outages, the use of such a system would help to keep the steel plant running for a few more hours.
Alternative solutions: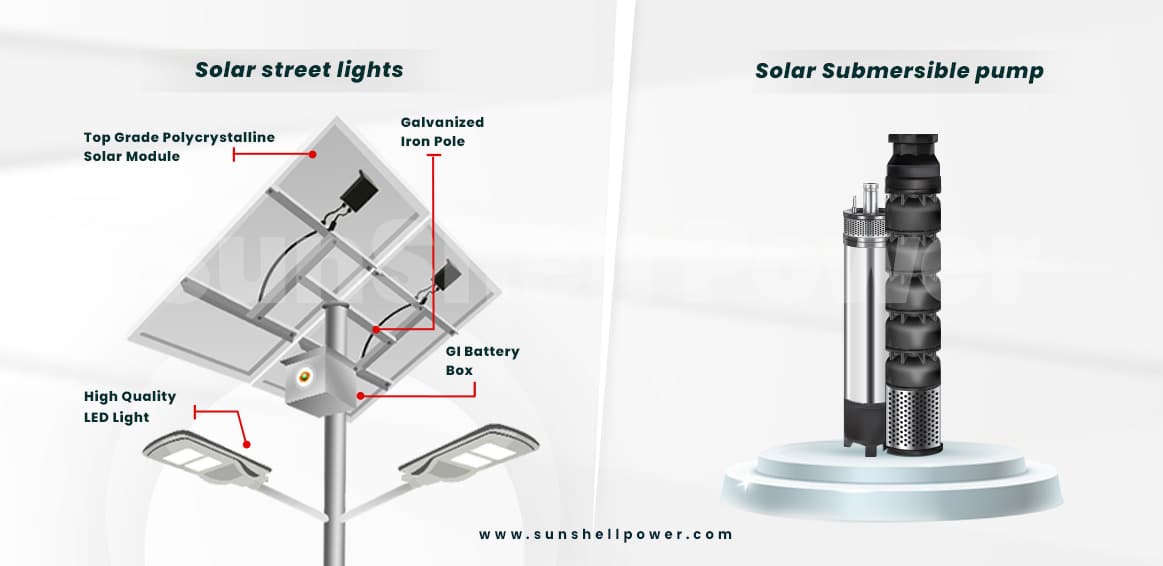 Solar Submersible pump: : Since there are several toilet facilities on the school premises, a reliable water supply is also important. These solar-powered pumps are submerged in the water below ground and are used to pump water from underground. There are different pumps with different capacities, depending on the need.
Solar street lights: : Normally, the institute grounds aren't sufficiently lit in the afternoon and evening. Since the grounds are quite large, lighting is also essential for safety reasons.
Two-in-one (semi-integrated): They're suitable for different purposes, easy to install and require low maintenance.
Solar mini mast: Best suited for places with unstable power sources, uses green energy and is almost maintenance-free.
Become a part of the green future:
As the world moves more and more towards green energy, educational institutions, which are the backbone of the educated society, are adapting to rooftop solar. Recently, 4 government schools in Ahmedabad have installed 6 KVA solar panels, which are sufficient for the power needs of the entire school campus.
Chavara Darsan CMI Public School in Koonammavu town in Kerala has already installed a solar system.
Large government and government-run schools install a solar system to meet some of the facility's electricity needs. However, since most of the schools operate during the day, the solar panels can meet the entire electricity requirement of the institution.
There are quite a few examples of successful solar installations in schools managed by SunShell Power. One of them is the government school in Khanyan, West Bengal. A grid-connected system of 6 kWp has been providing electricity to the entire school for about 6 years.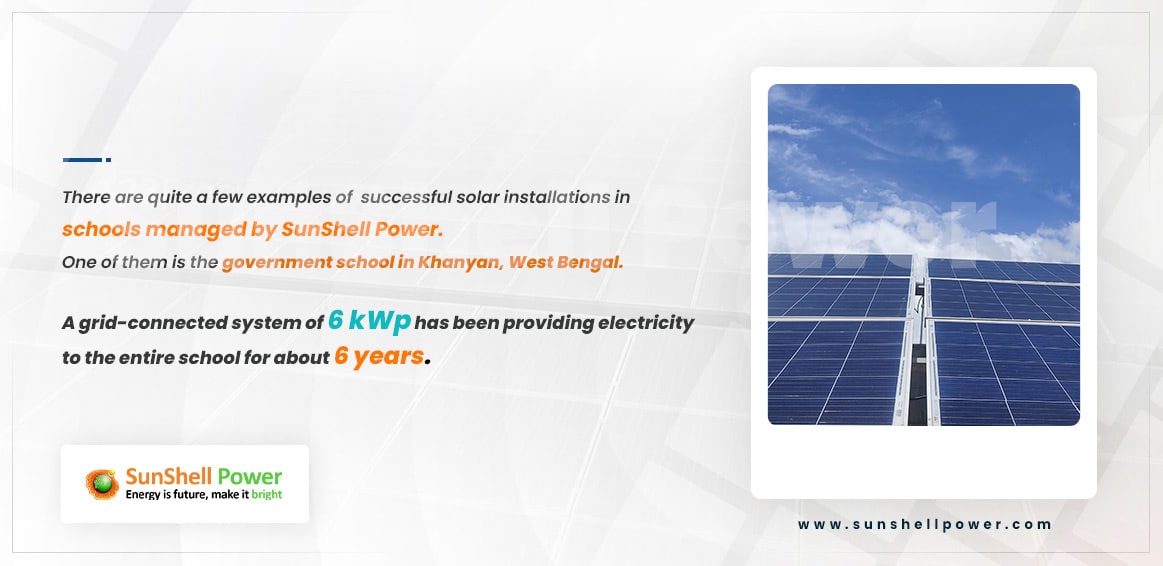 Enquire Now