In a densely populated country like India, health facilities are one of the primary needs. In Delhi, the hospital vs people ratio is 2.7 hospitals per 1000 people, which is half of the metric as set by WHO. In other areas, the number is one hospital bed for a population of 2000.
An uninterrupted power supply is a primary need for a healthcare facility to continue its services. During a power cut, many life-saving equipment and services such as oxygen supply lines, critical care unit machines stop working, which can prove detrimental for the patients.
The average allowed power downtime of a healthcare facility is 0.88 hours/ year. The number decreases to 5.3 min/year for critical care units.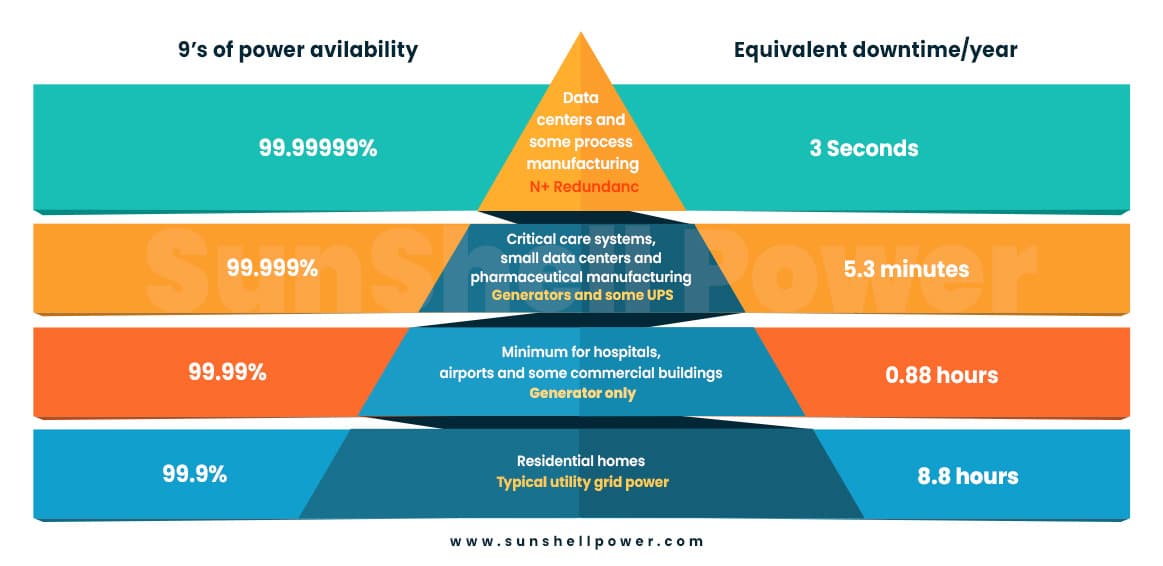 During the COVID breakout year 2020, this sector faced a catastrophic event like the Summer Power Outage of 2020. On 4th May 2020, India experienced a steep increase in cases of COVID-19, which unveiled the crumbling healthcare system of the country. In India, among the PHCs (Primary Health Care Units),87% had electricity access during 2007-08, among which only 36% had a reliable power supply. The remaining 51% were fully dependent on DG motors and caused 67% of total carbon emission by the sector, further boosting the Global Warming process. In 2021, even though the number dropped drastically, 80%  of these PHC with unreliable power supply don't have at least one medical staff of each category in cities like Delhi, Kolkata and Mumbai.
Electrical Loads
To assess and analyse the load of the healthcare facility, first, the feeder branches need to be defined.
Equipment Branch: motors, compressors, pumps, fans.
Critical Branch: Operation Rooms, nurseries, medical preparation rooms, pharmacy, communication system, reception and management systems.
Life-safety Branch: Egress lighting, exit signs, internal communication systems, elevators, generator set locations, automatic glass doors, inventory/storerooms, fire alarm system, ICU, emergency wards etc.
In India, the average area required per bed in a hospital is 150 square meters.
On average, an Indian hospital requires 380 kwh/sq.mt/year.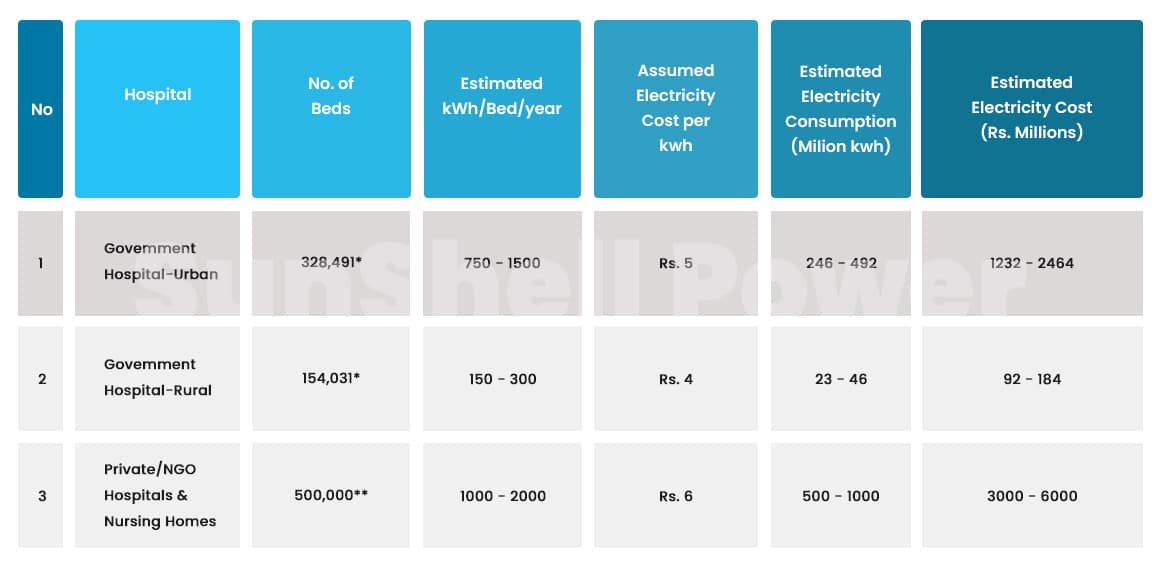 Power Backup
In Indian health facilities, Diesel generators are commonly used in power backup. The backup generators for hospitals may provide up to 14,040 ekW of power to support a wide range of equipment. For around 8 hours, a full tank of diesel fuel can keep a medium-sized hospital running. A 150kW, 240V propane generator can power a hospital for almost 24 hours, depending on its size.
Indian Govt. mandates a hospital with diesel power backup to store backup fuel for at least 96 hours. 
Problems:  The main problems faced by the health sectors from using the conventional power source are :
   When Blessing Becomes Curse: Though electrical power is the main component to run a health facility, for the production of this much power, 43.2 Mt carbon emission took place in the year 2020. Evidence suggests that 13% of the global incidence of asthma in children is due to excess carbon emission from conventional power production plants. To recycle the carbon emissions from the sector, 19 crore trees and 1.4 million square kilometres of forestation are required.
   Ever Rising Tariff Charges: As tariff charges go higher and higher, the electricity cost of various health sectors increases drastically.
   Unreliable Power Supply: Recent power outages caused a huge problem in energy supply which required a considerable energy backup, emitting a humongous amount of carbon.
   High Operational Cost: Diesel motors require a much higher cost as Diesel prices tend to grow up day by day. The Govt. guidelines to store backup fuel for a minimum of 96 days makes it even more costly.
So What's The Way Out? Solar Solutions for Health Institutes!!
As technology evolves, human civilization moves towards renewable power more and more. Moreover, solar power plants are the most reliable power source among renewables.
We at SunShell Power offer solar rooftop solutions for every problem in the health sector. Solar modules have a lifespan of 25 years with minimal maintenance, which makes the plant a reliable power source.
For the health facilities of India, we offer three types of rooftop solutions.
Grid-connected Solar Rooftop Plant,
Hybrid Solar Plant,
Off-grid plant.
Grid-Connected Solar Rooftop Plant ( On-Grid ): Reliable and efficient grid-connected solar power plant with minimalistic maintenance and available net-metering facility, a credit system through banking of power. If power cuts are not frequent, it is the best solution for the health institute.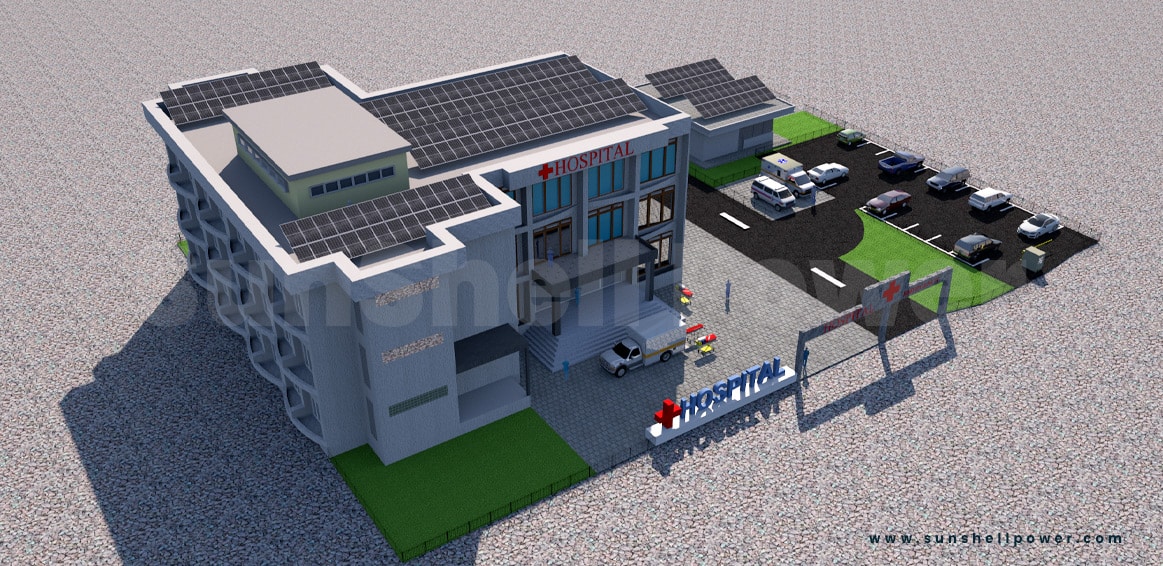 Power Plants With Storage Facility
Hybrid Solar Power Plant : The majority of the Indian hospitals and some of the departments suffer from frequent power cuts because the grid-connected power supply is unreliable. This happens due to the load fluctuations caused by the variable demand in the machinery of steel factories. In such cases, hybrid power plants are the most preferable, as the backup battery reduces the facility's dependence on DG backup motors, thus reducing much carbon emission in the environment. But as the required load in the steel plants is much higher, batteries with even better quality with large storage capacity are recommended.
Off-Grid Solar Power Plant: Hybrid plants are costly and may exceed some initial investment budget of many facilities to install a solar plant with backup. So the next best option is off-grid plants. In case of frequent power cuts and outages, the application of such would help keep the steel factory active for a few more hours.
Why On-Grid?
Even though in SunShell Power, every solar plant is important and valuable, for hospital facilities, we highly suggest the authorities install on-grid solar power plants.
From our previous experiences, we have pointed out several points, which clearly makes Grid-connected plant an ideal choice :
These systems are best suitable when power consumption is high, and one needs to reduce the electricity bills,
On-grid systems can be installed, with or without net metering,
On-grid solar systems are very cost-effective and easy to install
As there is no battery backup, maintenance is minimal, which can be helpful in the busy environment of the hospital,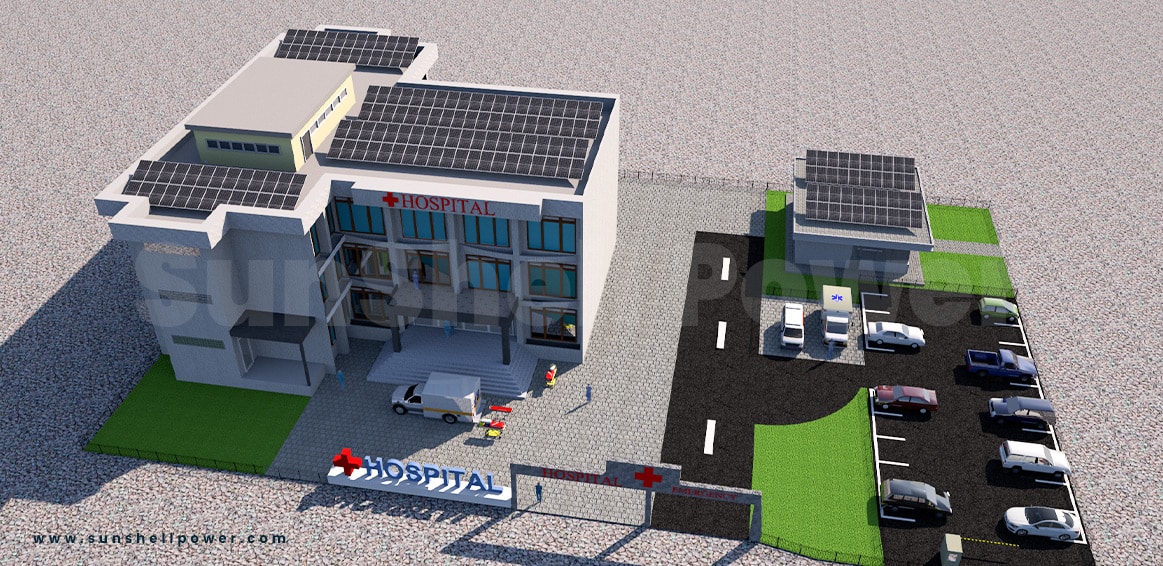 Benefits of Installing Solar – Solar Solutions for Health Institutes
Now, the question may arise to your mind – why should I invest in solar?
Apart from being eco-friendly and producing green energy, solar power plants are a great financial and economical investment, which undoubtedly is a reliable source of power. Here, from the feedback of our previous consumers, we have listed eight overall benefits of installing solar rooftop power plants.
Reduced electricity bills as dependency on conventional electricity are reduced,
Reduced bills on running back up DG sets,
The government gives subsidies for solar panels installations,
Tax benefits by going for accelerated depreciation
Easy availability of loans at low-interest rates for solar panel installation
Low maintenance and long lifespan
Environment-friendly solar power is the best way to preserve our planet,
Proper utilisation of the unused space on the rooftop,
NREL found that, among other health benefits, solar power results in fewer cases of chronic bronchitis, respiratory and cardiovascular problems, and lost workdays related to health issues.
Average ROI
The average RoI of a grid-connected solar plant in a health care unit is around 3.5-4.5 years, although it can change based on the load of the health facility.

Reliable Power Reliable Service: In India, an independent survey shows that PHCs with regular power supply treat an average of 1250 patients per month as compared to those without a reliable power supply, where only 700-800 patients are treated per month.
Enquire Now