Among 69,924 petrol pumps in India , only a handful of them have a reliable power supply system. India is the most densely populated country in the world with a vast  geographical expanse. So, economic and industrial transportation is heavily dependent on diesel and petrol fueled vehicles.
On an average 3,900 vehicles are served by each fuel station . Though , figures of a few states are significantly higher.  In areas like Delhi , Chandigarh, Andaman & Nicobar, Goa and Gujarat the no. increases to 22,500 ; 16,900 ; 10,200 ; 9,500 ; 6,600 respectively .
Petrol pumps in India are widely distributed from the rural to the suburban areas.On an average, a fuel station in the city sells 4000 L of diesel and 2000 L of petrol per day whereas in rural areas the number decreases to 2000 L & 1500 L per day respectively. The numbers may increase by 5x, based on the location and demand.
As electrical demand in India is far higher than the actual production , power outage is a common thing in these pumps.
Reports have shown that in rural areas, these pumps face problems due to power cuts for 4-6 hours a day. Burning 1 L of gasoline produces approximately 2.3 kg of CO2 . So , on average these DG motors consume 22 L of diesel per day, further increasing the expense.
Apart from power cuts, these DG motors are also used when the traffic flow increases during some certain times of the day.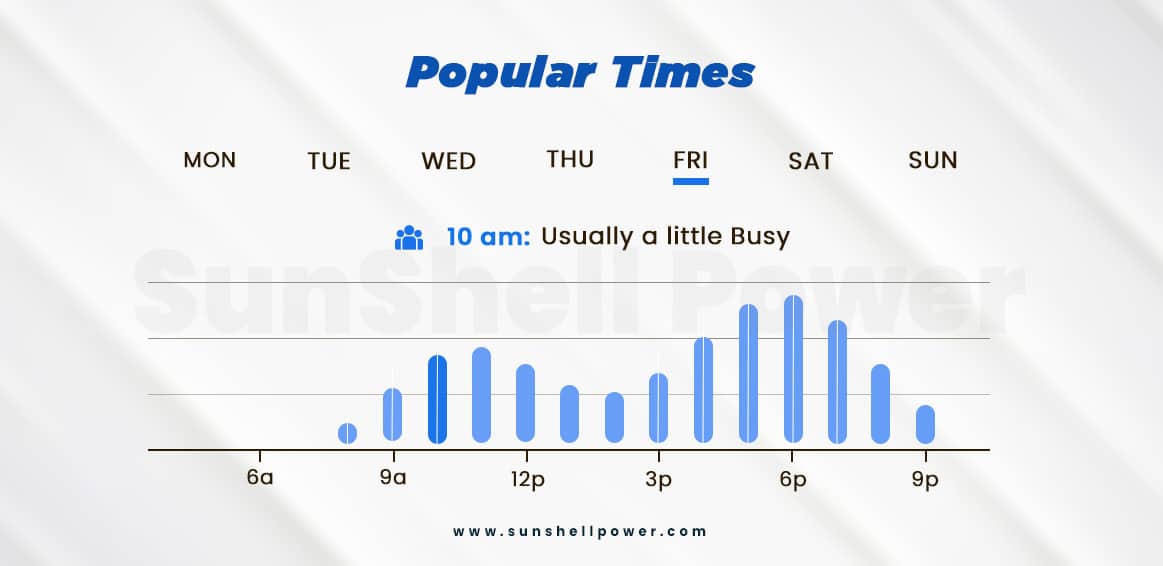 Problems faced by Petrol Pumps:
The main problems , faced by the petrol pumps from using the conventional power source are:
Ever-rising Tariff Cost : Petrol pumps are commercial units. Hence ,they are charged by steep electricity costs . On average , the monthly electricity bill of a petrol pump in India is around 25,000, which may rise according to the demand & location the charges may rise to Rs. 35,000 – 40,000 .To produce this much electricity 5,130 kg of CO2 is emitted every month and to recycle this much carbon 2,835 no. of trees are required and 6.08 sq.Km of forestation is required.
High DG Cost : Over a period of 10 years a 10 kW/kVA diesel powered generator would cost almost Rs. 43,80,000 ( inclusive purchase cost, fuel cost and maintenance).As the diesel prices are on an uprising scale , this cost will rise by time.
Irregular Power Supply : Majorly in rural areas of India, inconsistent power supply results in a major problem in the working process of the stations.As  during frequent power cuts the DG motors need to be restarted which takes time and surge wattage costs more fuel in the motors.
More Carbon Emission : As pollution becomes a major issue for humanity ,the world aims towards less carbon emission day by day. To produce 1kWh energy 95 kg CO2 is emitted. So, to power up a petrol pump 171 kg CO2 emission happens every day , not considering the emission from the DG motors.
When Solution Is THE Problem: As the world continues to move towards a carbon neutral environment, people are adapting more to the EV culture, which has created a requirement for EV charging stations.
But  the power required to charge those EVs is the coal-generated conventional power, which is responsible for the majority of the greenhouse effect.
Now after discussing the problems , if we want to find a solution , first we need to look and know the components and electrical load of a petrol pump.
Components of A Petrol Pump :
For simplification we have categorized the components of a petrol pump into various sections.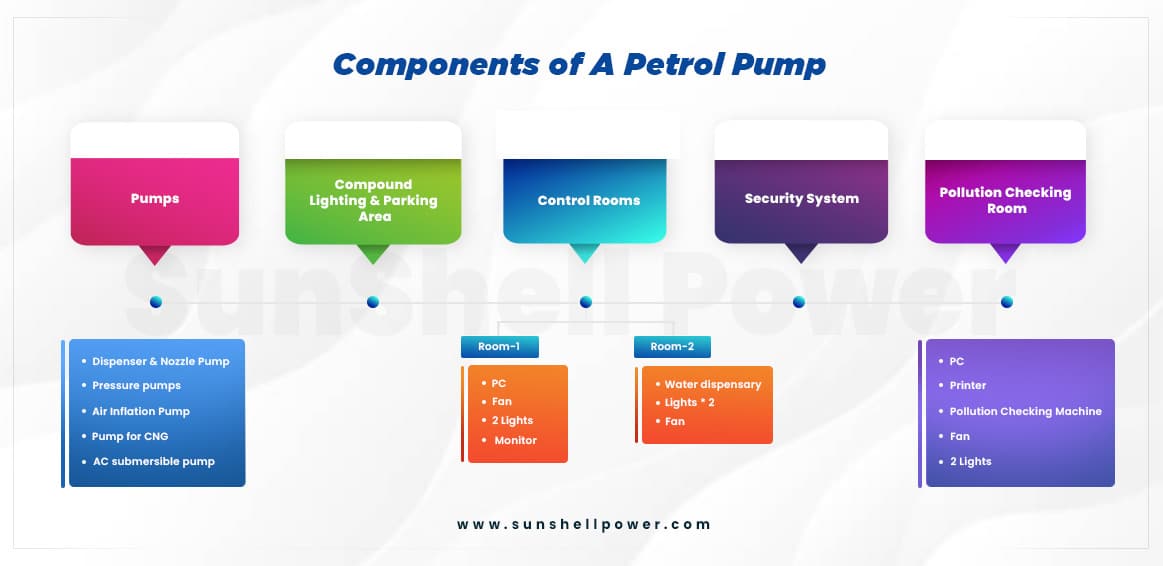 Pumps: These are the list of pumps , used in the petrol pumps to provide various services like retailing petrol, cleaning and hygiene purposes and for water usage in the washroom.
Govt. of India mandates each petrol pump to have a public washroom for usage as a part of the Swachh Bharat Abhiyan.

Dispenser & Nozzle Pump – 750W
Pressure pumps for cleaning and gardening purpose – 2HP
Air Inflation Pump – 125W
Pump for CNG – 17KW
AC submersible pump for lifting water to the overhead tank for drinking water and sanitary purposes- 0.5-1 HP

Compound Lighting & Parking Area : As petrol and gasoline products are highly flammable and the incoming traffic needs proper direction to the petrol pump ,a sufficient amount of lighting is mandated in the petrol pump.
Mini Lights ( (Incandescent lights wattage varies from 30 watts to 250 watts and CFL wattage varies from 6 watt to 20 watt.)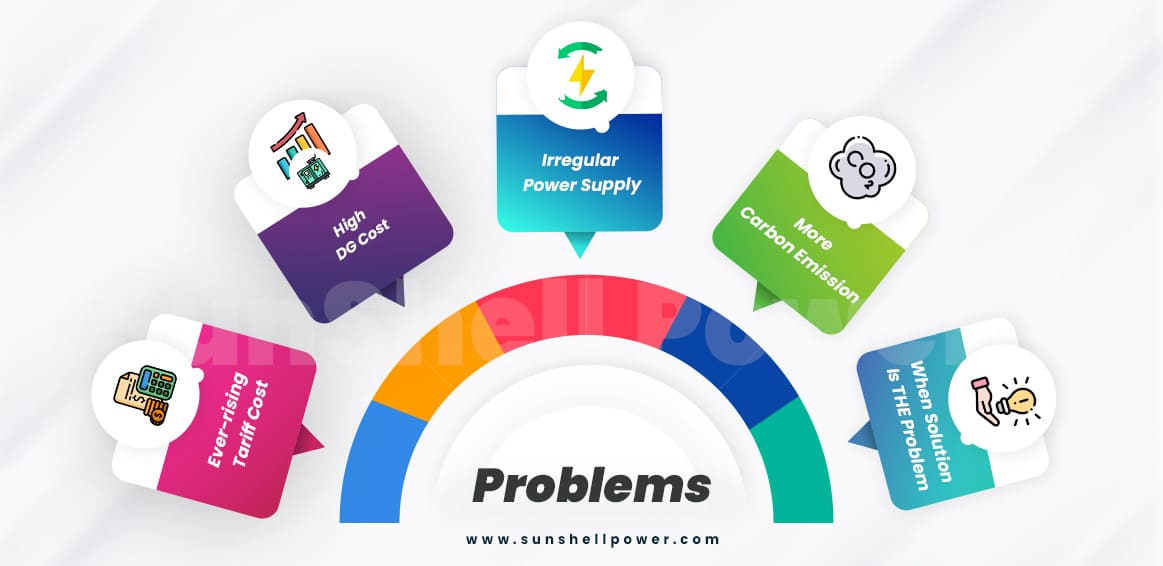 Control Rooms
Room-1
PC
Fan
2 Lights
AC
Monitor for monitoring security system
Room-2
Water dispensary
Lights * 2
Fan
Security System
CCTV cameras ( An average CCTV camera varies from 2 watt to 15 watt ).
Pollution Checking Room
As the government mandates every vehicle to check and pass the pollution test, many petrol pumps are establishing a pollution checking room to test those vehicles. The components of a pollution checking are commonly are :
PC
Printer
Pollution Checking Machine
Fan
2 Lights
EV Charging Stations
As the world more and more moves towards the net zero emission , more people are acquiring electric vehicles (EV). India is also in line for one of the largest EV markets in the world.
Under AC charging, there are 2 categories of charging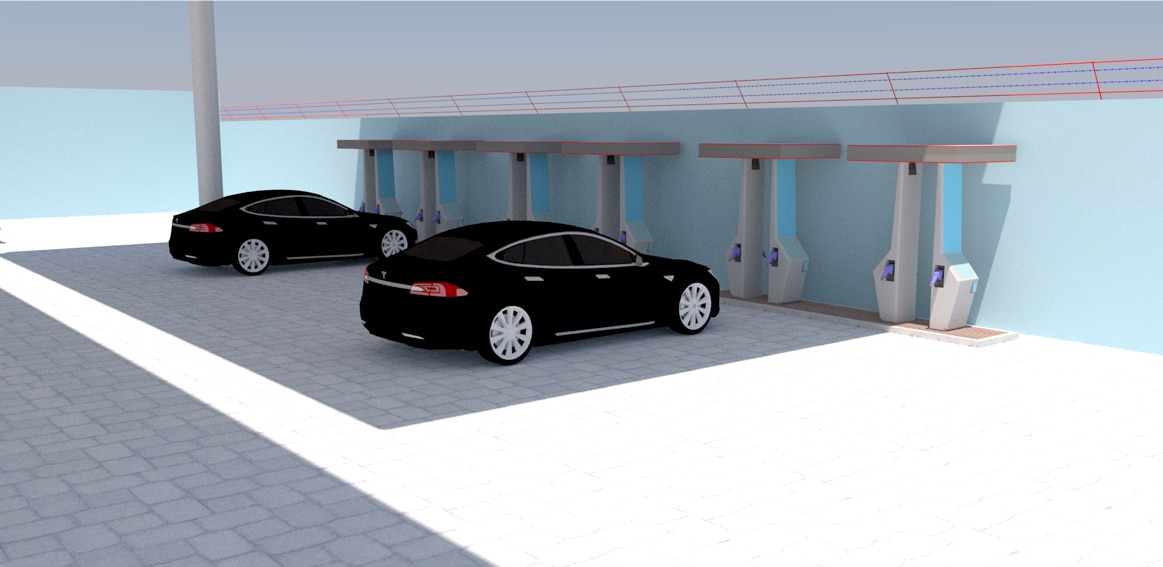 Normal AC Charging
Electric 2-wheelers, 3-wheelers and 4-wheeler vehicles in India have on-board charges that charge at a rate of around 2.5kW to 3 kW. These AC 2.5kW or 3kW chargers could fast charge a 2-wheeler (for a battery with an energy density of 2 KWh) in an hour's time; 4-wheeler or larger vehicles with batteries of 12 KWh or more will be charged in five to six hours.
Fast AC Charging
Global electric cars like the Nissan Leaf or the Tesla have on board chargers with higher power ratings.
This enables AC charging at a faster rate, from 7.7 kw to 22 kw.
Battery Swapping
Battery charged EVs are becoming more common in the Indian transport system, and the requirement of efficient EV charging is getting higher and higher. The most efficient way to charge EVs is by battery swapping. In a few states like Chandigarh, Amritsar and Bengaluru these swapping machines are getting installed to make the process more fluent. A battery swapping machine usually contains 14 batteries .The normal charging stations may have an electrical load of 50 kW and for the heavy duty chargers the average electrical load is 100 kW.Even though the technology is at its preliminary stages, further development and application at a greater stage is further expected.
Electrical Load
On average, a petrol pump requires more than 20kWh of electricity everyday for its day to day fuel dispensing operations.This amounts to a total capacity of over 1,840 kWh of power required for a year for one petrol pump.
Power Backup
DG motor. The diesel generator charges up the inverter to power the equipment of the fuel station. As reliable power is the main component in these pumps, DG is commonly used everywhere.
But usage of these types of motors increase the carbon emission. As in general, to produce 1unit electricity approximately 0.4 L diesel is required which emits 920 grams of CO2.
So, what's the way out? Solar Solutions for Petrol Pumps!!
As technology evolves, human civilization moves towards renewable power more and more.Moreover, solar power plants are the most reliable power source among renewables.We, at SunShell Power, offer a solar rooftop solution for every problem in the health sector. Solar modules have a life-span of 25 years with minimal maintenance which makes the plant a reliable power source.
For petrol pumps of India , we offer three types of rooftop solutions with some additional solutions.
Grid-connected Solar Rooftop Plant,
Hybrid Solar Plant
Off-grid plant.
Grid-Connected Solar Rooftop Plant (On-Grid)
Reliable and efficient grid-connected solar power plant with minimalistic maintenance and available net-metering facility , a credit system through banking of power. If power cuts are not frequent then it is the best solution for commercial units like petrol pumps.
From our previous experience and case studies we would suggest Indian petrol pumps install a grid-connected rooftop plant of a size 8.6kWp,containing 16 no.s of 540Wp panels which is the most optimized and beneficial.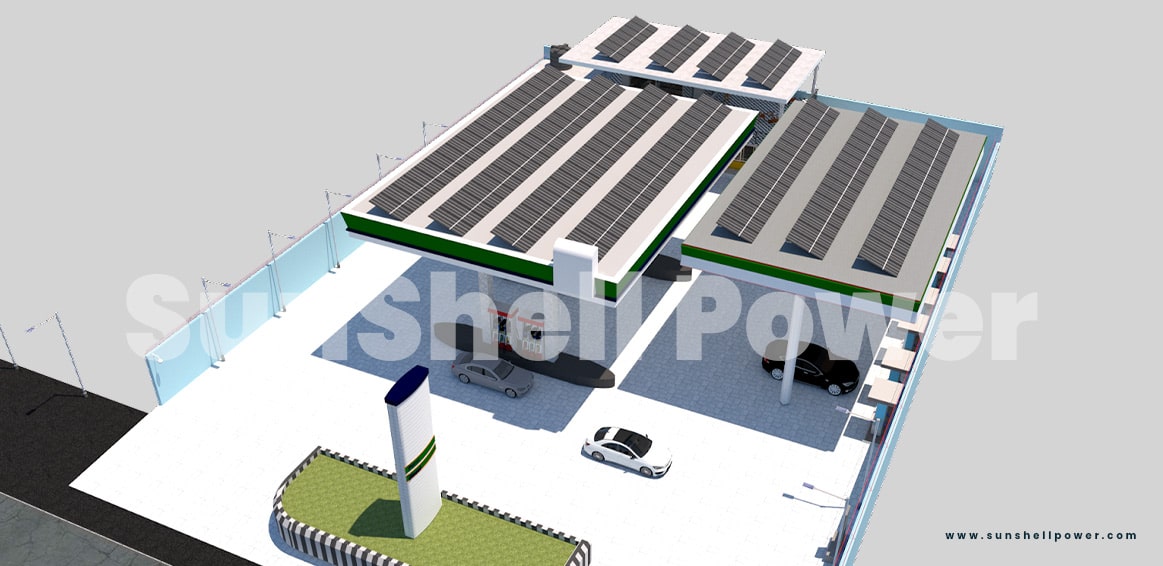 Why On-Grid?
Even though, in SunShell Power , every solar plant is important and valuable to us. For petrol pumps we would highly suggest the authority to install on-grid solar power plants . From our previous experiences , we have pointed out several points from which we have declared the Grid-connected plant to be a clear winner.
These systems are best suitable when power consumption is really high and for cost reduction of electricity bills,
On-grid systems can be installed with or without net-metering,
Not only a solution but this grid-connected solar plant will also generate revenue , further decreasing the expense,
As there is no battery backup , so maintenance is minimal and has a longer lifespan, which can be helpful in the hectic working schedule of the petrol pump.
Average ROI
The average ROI of a grid-connected plant is about 3.2 – 4.4 years. The average ROI of a solar petrol pump depends on the elements that are being powered. The simple maintenance and reduction in monthly power bills ensure the customer gets an ROI of 25%-30%. This means the customer earns 25,000/- for every 1,00,000 they invest.

Government Schemes
The CFA has been restructured and higher CFA up to 40 % will be given for RTS systems up to 3 kW capacity. For RTS systems of capacity above 3 kW and up to 10 kW, the CFA of 40% would be applicable only for the first 3 kW capacity and for capacity above 3 kW the CFA would be limited to 20 %.
Power Plants With Storage Facility
Hybrid Solar Power Plant : As majority of the Indian petrol pumps suffer from frequent power cuts and the cost of running DG motors is very high, hybrid power plants are also preferable, as the backup battery reduces the facilities dependence on DG backup motors, reducing much carbon emission in the environment.
The savings with grid connected hybrid inverters can be upto 33% than the grid connected string inverters and 28% greater than the off-grid inverters. As the average load of a petrol pump is around 5 – 8.5 kW the battery cost is comparatively low.
Off-grid Plants: As the initial investment for the hybrid plants is higher for some of the petrol pumps, the next best option is off-grid solar plant. In case of frequent power cuts and outages , application of such would help keep the petrol pump active for more hours than previously enabling more traffic and active hours along the night time.
Benefits of Solar Solutions for Petrol Pumps
Now you may be asking yourself, "Why should I invest in solar?"
Apart from being eco-friendly and producing green energy, solar power is a great financial and economical investment, which is also a reliable source of power.
Here, from the feedback of our previous consumers , we have listed 8 overall benefits of installing solar rooftop power plants.
Reduced electricity bills as dependency on conventional electricity is reduced
Reduced bills on running back up DG sets
Government gives subsidy for solar panels installations
Tax benefits by going for accelerated depreciation
Easy availability of loans at low interest rates for solar panel installation
Low maintenance and long lifespan
Environment friendly solar power is the best way to preserve our planet
Proper utilization of the blank space on the rooftop.
Alternate Solutions
Solar Street Lights : Solar street lights are cost-effective and use sunlight as an alternate source of energy. As petrol pumps require a certain amount of light in every area of the premises. These lights are perfect for the aim towards a green petrol station.
All-in-One Solar Street Light : Compact, lightweight design with motion sensor that can be used anywhere.
Two-in-one (semi-integrated) : Used for a variety of purposes, these are easy to install and are low-maintenance.
Solar Mini Mast: Best for places with unstable power sources, uses green energy and needs almost zero maintenance.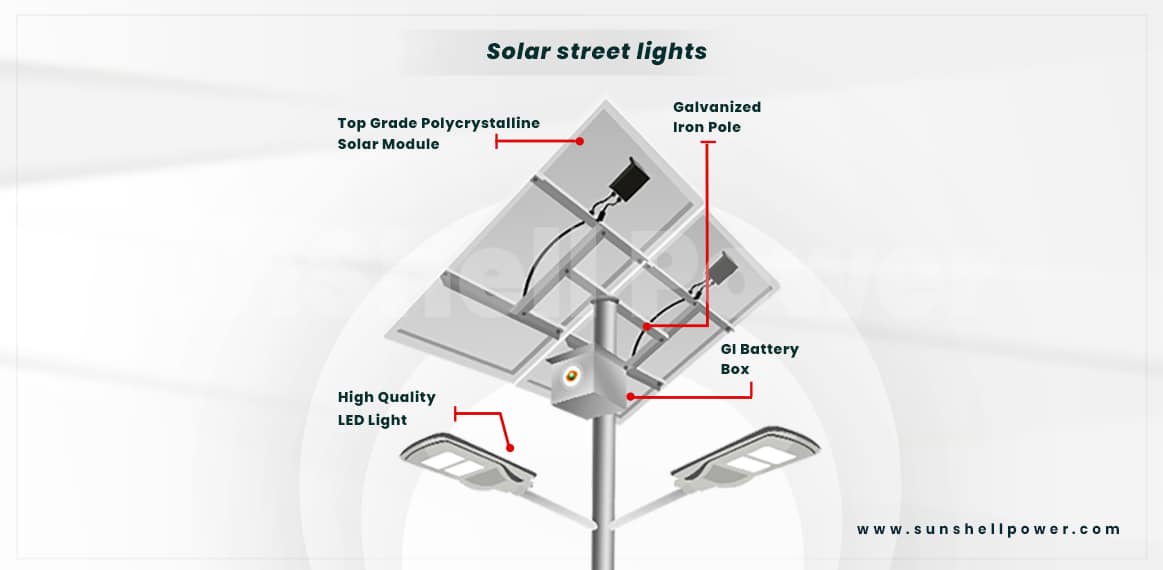 Solar Submersible Pump
As the govt. has mandated the pumps to have a toilet for public use , this type of pump is ideal for pumping water from underground for toilet and sanitization purposes.
Become A Part of The Green Future: As the world moves towards the net-zero target , India has also set a target of net-zero by the year 2070, Govt . are offering various schemes and policies for solar installations.The major oil retailers in India Hindustan Petroleum & Bharat Petroleum have 9% & 7.5% of their pumps using solar energy.
Enquire Now